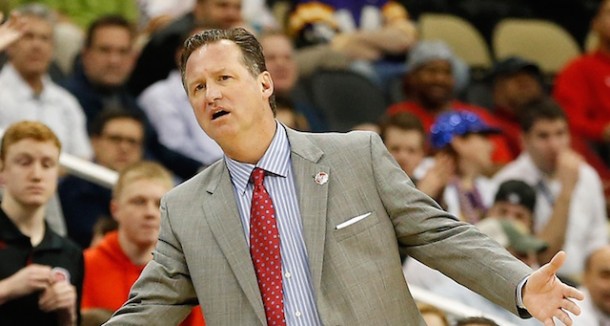 North Carolina State lost plenty of talent over the offseason. However, with Anthony 'Cat' Barber and a talented frontcourt, Mark Gottfried's team was still expected to be an NCAA Tournament squad.
Those hopes came crashing down tonight. NC State hit a road block in the William & Mary Tribe from the Colonial Athletic Association, falling at home 85-68. The game was an utter blowout from the beginning as the stunned crowd at PNC Arena left in agony.
Due to a horrific night shooting by Cat Barber, 4-16 from the field and 0-3 deep, the Wolfpack looked completely lost. Caleb Martin was the leading scorer, garnering 21 on the night via some hot 3-point-shooting. Other than that, NC State was pretty much dead in the water. After transfer Terry Henderson left the game early due to an ankle injury, Maverick Rowan came in and gave some needed scoring, but he went 1 for 8 from three. It was a tough sight to see, as neither guard played quality defense either.
William & Mary lost star Marcus Thornton to the NBA this summer, and they were not supposed to pound NC State in this way. However, the backcourt leaders of the Tribe thought otherwise. Daniel Dixon led the way with 19 points, drilling some critical long balls. Omar Prewitt was also a huge help to the cause, getting to the charity stripe and ending up with 17 total points. Senior Terry Tarpey played well on defense, grabbing 8 rebounds. Overall, it was a balanced attack from the Tribe that was not daunted by the NC State defense in any facet.
One bright spot for NC State was a fine play of Abdul-Malik Abu down low, scoring 17 points and getting some rebounds and assists. A lot was expected of Abu this year as he is needed to carry the load. On the other hand, BeeJay Anya did not get many opportunites to score tonight as the NC State backcourt was too busy heaving errant jumpers.
The Wolfpack simply do not look sound right now. This was a bad game by Cat Barber, and now that he is in a leadership role, he has to be smarter with the basketball. Also, the defense looks atrocious. When the Tribe of W&M started out on a 23-5 run, it was clear that this was not the Wolfpack team we're accustomed to observing.