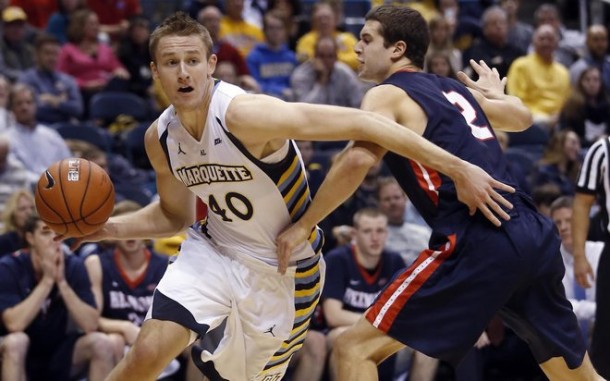 On Friday night, the Belmont Bruins popped the bubble of optimism which surrounded the new look Marquette Golden Eagles with an 83-80 upset victory at the BMO Harris Bradley Center in Milwaukee, Wisconsin.
Belmont led by Bradds, Bradshaw
The Bruins were led by strong performances from Evan Bradds, who had 24 points and nine rebounds, and Craig Bradshaw who added 18 points and four boards. In addition to those two, Belmont was given a spark off the bench from Nick Smith and Kevin McClain, who poured in 14 and 10 points respectively.
Neither team can pull ahead early
Over the game's first third, the two teams seemed evenly matched. Neither side was able to gain a noticeable advantage, and when they went to the under eight minute TV timeout with the score tied at 29-29, no one had held a lead of greater than six points.
Runs take over the game
Following that point the game descended into a series of runs. The Golden Eagles went on a brief one to open up a slight lead before the Bruins closed the half on a 14-3 run to head into the break with a 47-40 lead.
Belmont continued their run after halftime, with Bradds and Bradshaw combining to expand the lead to 51-40. That seemed to shock Marquette into action, and highly touted freshman Henry Ellenson looked to single handedly will the Golden Eagles back into the game. They ripped off a 16-5 run, with the #7 recruit in the nation scoring seven of the 16 points as Marquette knotted up the game at 56-56 with 12:28 left on the clock.
Over the course of the next few game minutes, the two teams traded baskets before Belmont pulled away again after the under eight TV timeout. With the score tied at 65-65, the Bruins rattled off an 11-2 run only for Marquette to again reel them back in with an 8-0 spurt of their own.
Belmont holds on
Both sides traded buckets again over the final few minutes, but at the end it was Belmont who held their nerve and made some key free throws while Marquette's young guns missed three chances in the final 30 seconds to make a shot which would have tied or given them the lead.
The loss snaps Marquette's 14 year home opener winning streak, and illustrates that although this group is talented, there will be bumps in the road.
Marquette were lead in scoring by Ellenson, who finished the game with 21 points and 16 points. Junior Luke Fischer added a double-double with 12 points and 10 rebounds while junior Jajuan Johnson and sophomores Sandy Cohen III and Duane Wilson were also in double figures.
The victory is a terrific one for the Bruins; although they were in the NCAA Tournament last season and have been in 10 of the last 12 years, it's still rare that a mid-major school beats a power conference team on the road. Belmont move to 1-0 (0-0 Ohio Valley Conference) and will look to build on this victory on Monday when they travel to Arizona State.
Meanwhile, Marquette will have to regroup quickly. They knew that this would be one of their most difficult nonconference games, but it's still a thoroughly disappointing loss. With the amount of youth in this team, the Golden Eagles 0-1 (0-0 Big East) need to respond to the loss quickly. Luckily for them, they host IUPUI on Monday night in a game which screams "rebound."