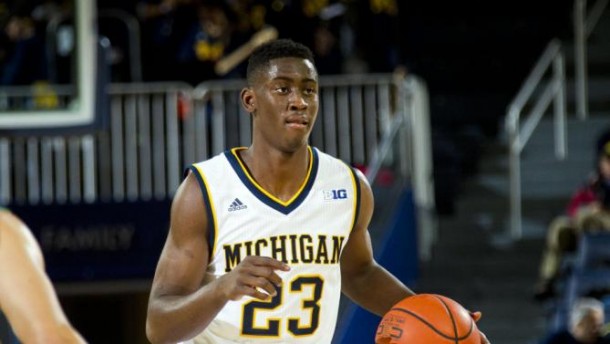 The No. 25 Michigan Wolverines cruised to a 70-44 victory over Division II Northern Michigan on Friday night. Caris LeVert was injured for the end of last season, but chose to return for the 2015-16 season, which he made a statement with 18 points in the first game of the season.
The Wolverines (1-0) jumped out to an eight point lead to start the game and eventually extended it to 36-26 at halftime. Michigan was in control most the game and later led by 29 points at most.
"We're all still knocking off some jitters, knocking off some rust," LeVert said. "But I think our defense is up to par right now. As soon as our offense catches up, and it will soon, I think we'll be a really good team."
The Wildcats (0-1) showed fight early as they started slow, but bounced back to trail by four, 15-11. However, Aubrey Dawkins threw down a dunk to give Michigan a 19-11 lead, which the continued to add on all game.
Dawkins scored 15 points on 6-for-7 shooting while adding six rebounds and two assists in the win. Spike Albrecht chipped in seven points and three assists over 17 minutes of action.
Leading the way for the Maize and Blue was LeVert, who scored 18 points on 7-for-12 shooting from the field with four rebounds and five assists over 29 minutes.
The Wolverines missed the NCAA Tournament last season after LeVert missed the end of the season because of foot problems. The team was also missing starting point guard Derrick Walton at the end of the season. Both players went out in January, but are at full strength now.
Walton got the start and played 22 minutes for the Wolverines. He scored four points on 1-for-4 shooting from the field with two rebounds and an assist.
As for the Wildcats, Naba Echols and Jordan Perez individually scored 13 points each. Echols brought in five rebounds and dished out two assists.
Over 11 all-time meetings between Northern Michigan and Michigan, the Wildcats have not won a single matchup.
Michigan will face Elon at home on Monday night. Northern Michigan will take to the road to battle with Minnesota Duluth on Tuesday night.