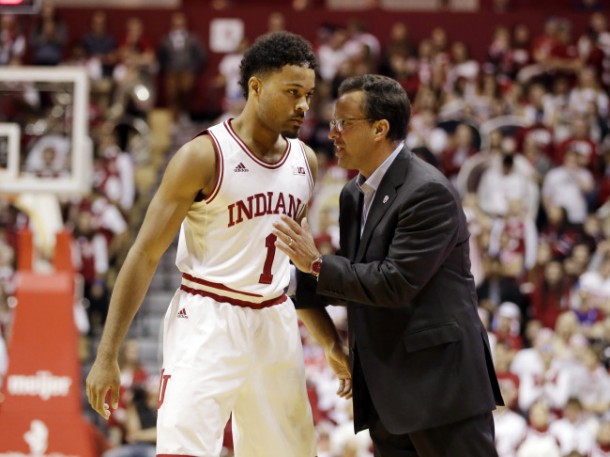 The Indiana Hoosiers took care of business in their opener Friday night versus Eastern Illinois in convincing fashion and are looking for more of the same as the Hoosiers get into the meat of their non-conference schedule.
The Hoosiers had it all working Friday night as six players scored in double figures as they scored 88 points against an Eastern Illinois side that was greatly outmatched.
The most impressive thing about that game, however, might have been their rebounding. In total, the Hoosiers collected 51 rebounds to the Panthers 17 and once again, the Panthers were no match.
There were a lot of good things to take out of their opener, but coach Tom Crean has preached consistency and they will need to continue to play consistent if they are to be successful.
"And now the key is: Can we continue to improve?" Crean said. "But to get this kind of start tonight in front of a great crowd and to play with the energy we did, we're excited about that."
In the end, the Hoosiers had an easy time of things and did what they needed to do to get a good first win of the season. They ended the first half on a 27-3 run that gave the Hoosiers plenty of cushion.
"We're really focusing on not letting that drop-off," fifth-year senior forward and Michigan transfer Max Bielfeldt said. "We don't want to be a team that's kind of known for letting that lull or letting the other teams get back into it or letting anything drop off. We really want to push it 100 percent 100 percent of the time."
Next up, Indiana will be facing the Austin Peay Governors out of the Ohio Valley Conference as they come into Assembly Hall in Bloomington on Monday night following a tough loss at the hands of Vanderbilt, 80-41.
Once again, it is expected that the Hoosiers will take care of business and come away with the victory, but taking games one at a time is important as we saw this weekend with the likes of Georgetown, UCLA, and other big name schools going down.
The Hoosiers will look to continue to build on a good first win and hopefully can continue to get the same productivity throughout their rotation which made them so successful Friday night. James Blackmon Jr. had a great ballgame as he scored 17 points in just 21 minutes on the floor.
One of those players that had a great game was Robert Johnson who's role will change this year after having started a season ago.
"I think it's all in being ready to play, especially off the bench," Johnson said. "It's a unique position to be in because you get to see how the game's being played and how the refs are calling the game, so you get to come in and basically make adjustments and try to impact the game."
Austin Peay will no doubt have their hands full with a Hoosiers team on the rise, but shooting better than 22 percent like they did against Vanderbilt might be a good place to start.
Two players to watch for Austin Peay are Khalil Davis and Chris Horton. Davis was the only Austin Peay player to score in double figures Friday night with 10 points while Horton led the Ohio Valley Conference in rebounding a season ago and collected a game high 14 rebounds.
The Governors will have a lot on their plate Monday night with the a Hoosiers team that can put the ball in basket.
Tip-off is set for 7:00 p.m. EST on Big Ten Network live from Assembly Hall in Bloomington, Indiana.