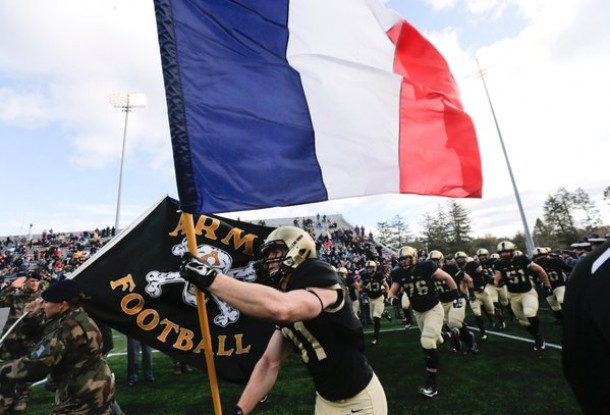 The football seemed secondary.
A day after a series of deadly attacks killed 129 people in Paris, the Army Black Knights took the field against the Tulane Green Wave with the French flag in hand. The flag was run in alongside the flag of the United States, which is carried in by the football team at every game. The flag remained on Army's sideline for the duration of the game, showing solidarity between the armed forces of the United States and the victims of the terrorist attack.
The French flag was also carried in by the Navy football team in their game against SMU.
There was still a game to be played, and that game was won by the Green Wave (3-7). Tulane jumped up on the Black Knights (2-8) by a score of 28-7 late in the first half. Army, however, clawed back against Tulane, scoring 14 unanswered points to finish off the first half, including a blocked punt that was returned for a touchdown. It was Army's first block punt since their game against Navy last season.
Army pulled even at 31-31 late in the game, but a last minute drive resulted in a field goal by Tulane kicker Andrew DiRocco as time expired.
"Our team's happy. Emotions started to get low, and it's just great to bring energy back to team," said DiRocco after the game. It was the first time DiRocco has ever kicked a game winning field goal in his life. He happened to do so on his father's birthday.
Tulane quarterback Tanner Lee had an efficient day through the air, completing 14 of 29 passes for 252 yards and two touchdowns. He also lead his team on that game winning drive.
Army quarterback Ahmad Bradshaw had his best day in the air, completing 6 of 10 passes for 121 yards and two touchdowns, including a 11 yard touchdown pass to Edgar Poe to tie the game with Tulane. He also added 72 yards and a touchdown on the ground. In total, Army ran 55 times for 216 yards. Tulane got 91 yards on 14 carries by running back Dontrell Hilliard. The MVP of the Green Wave was wide receiver Teddy Veal, who caught four passes for 123 yards, including a 90 yard touchdown catch.
"For teams that hadn't won many games, it was a pretty clean, hard-fought game," Green Wave coach Curtis Johnson said. "This was a classic."
Tulane snapped a five game losing streak this week, while Army has now lost three in a row. Neither team has a chance to make a bowl game this season. Tulane heads to SMU next week, while Army stays home to take on Rutgers.