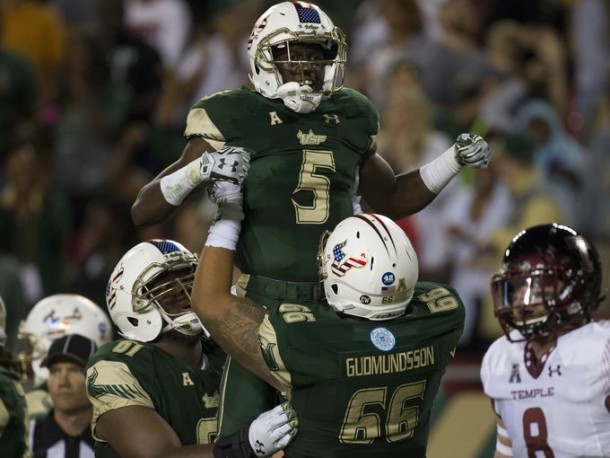 The Temple Owls squared up with the USF Bulls in an American Athletic Conference game. Temple had a chance to clinch the East Division of the conference with a win and earn a spot in the conference title game. However, that will wait another week as Temple played some of the ugliest football all season long. USF was able to capitalize off of it in a huge way.
Temple seemed to be off to a strong start. Temple drove the ball 60 yards but kicker Austin Jones missed a 39 yard field goal that hit off the upright and set a tone for Temple the rest of the night. On Temple's next drive, they moved the ball 92 yards in eight plays. The drive was capped off with a one yard touchdown rush from running back Jahad Thomas. USF answered on the following drive as quarterback Quinton Flowers found Rodney Adams open, who took it 68 yards for a touchdown to tie the game. The first quarter drew to a close with the two tied at seven.
The second quarter saw no shortage of offense. On the first play of the ensuing drive, Temple quarterback P.J. Walker was pressured and his pass was picked off, taken to Temple's five yard line. Flowers kept the snap and took the ball into the endzone himself, giving the Bulls a 14-7 lead. The scoring would not stop, as Temple's next drive was finished with a 33 yard field goal from Jones. USF answered quickly, scoring again only a minute and fifteen seconds later. The score came as a result of a huge 57 yard rush from running back Marlon Mack. Following an Owls three and out, the Bulls did not let up as Flowers found Mack open for a 20 yard touchdown pass, making it 28-10. USF got on the board one more time in the half, as a result of a 47 yard field goal from Emilio Nadelman, making the score 31-10 going into the half.
Temple did not let their sluggish first half stop them from starting strong in the second half. The Owls forced a fumble on the Bulls first play from scrimmage and started just outside of the redzone. Walker found Ventrell Bryant open for a fourteen yard touchdown pass to make it a 31-17 game. Temple continued to claw their way back into the game as Jones kicked a 35 yarder to cut the deficit to just 11 with over eight minutes to go in the quarter. USF was still alive, as they ate up five minutes on a drive for Nadelman to finish it off with a 24 yard field goal, making it a two touchdown game.
Temple was rocky when the fourth quarter started as Austin Jones missed his second field goal of the night on the next drive, this one from 45 yards out. Nadelman was able to convert on his 37 yard field goal to make the score 37-20. On the next drive, Jones did convert on a 35 yard field goal, to make it 37-23. USF secured the win with 2:38 left as Mack got off another huge touchdown run, this one for 48 yards, to make it 44-23.
USF's offense capitalized off of a terrible performance from Temple's defense. The Bulls had a total of 556 yards on the night and Marlon Mack contributed 230 rushing yards and two touchdowns. Temple's defense allowed seven plays of twenty or more yards, which was unheard of for them before tonight. Temple also had plenty of dropped passes that could have put them back in the game several times.
South Florida is now 6-4 on the year and bowl eligible for the first time since 2010. They now host Cincinnati next week in an effort to improve their record and potentially make it to the conference title game.
Temple falls to 8-2 on the year and their hopes of making a New Year's Six Bowl came to a screeching halt in Florida and will most likely fall out of the College Football Playoff rankings. Temple goes back home and plays Memphis in an effort to clinch a spot to make the conference title game and get back into winning form.