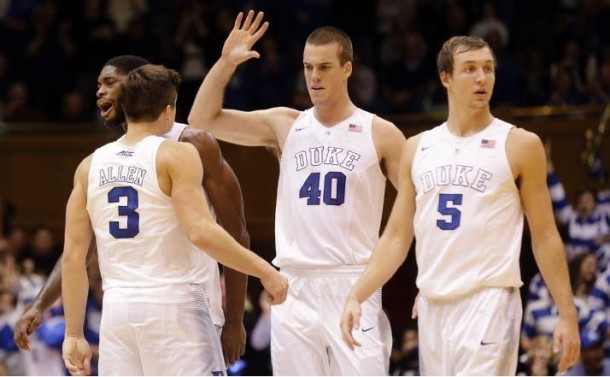 Event: 2015 State Farm Champions Classic
Time: 6:30 PM for game one and 9 PM for game two
Location: United Center, Chicago, IL
The State Farm Champions Classic has been a routinely played event since 2011, and it always features four basketball programs with notorious success from different conferences. These four teams are: The eight-time NCAA Champion Kentucky Wildcats from the SEC, the five-time NCAA Champion Duke Blue Devils out of the ACC, the three-time NCAA Champion Kansas Jayhawks out of the Big 12, and the two-time NCAA Champion Michigan State Spartans out of the Big 10.
Game 1: #2 Kentucky Wildcats - #5 Duke Blue Devils:
These teams are so similar in terms of the fact that neither has had to rebuild this year, but instead are reloading.
Kentucky:
Kentucky lost seven players, six of which were All-Americans, from last years notorious platoon system team that was undefeated up until their Final Four loss to the Wisconsin Badgers, including standouts such as defensive stalwart and high energy big man Willie Cauley-Stein, twin guards Aaron and Andrew Harrison, and the number one overall pick of the 2015 NBA Draft, Karl Anthony Towns.
However, the team still returns three key players from last years roster, and they are new starting point guard and perhaps team leader Tyler Ulis, big man Marcus Lee, and now senior Alex Poythress, who is coming off a ACL tear and missed majority of last season. He will perhaps be the key spark off the bench with his energy and defense, and is the first ever scholarship player under coach John Calipari who has stayed until his senior year.
Not only is John Calipari a great basketball coach, he is also a great recruiter, consistently within the top-five of overall team recruiting rankings every year since his arrival in Lexington in 2009. This year, he has pulled in two of the top-15 recruits in the 2015 ESPN Top 100, number 13 overall recruit Isaiah Briscoe and number two overall recruit and potential top overall pick in the 2016 NBA Draft, Hatian born Skal Labissiere.
Isaiah Briscoe is an excellent scorer, rebounder and passer for his position, easily having the ability to fill up the stat sheet. He is great with his balance and can move easily off the dribble. On defense, he is tough and very aggressive, which Calipari is very pleased by. His shot selection does need to improve, but he certainly has the ability to do so.
As for Skal Labissiere, he is just a gem. The 6'11", 220 lb freshman has all the tools that have NBA scouts absolutely drooling. He has the body and build that can only get stronger moving forward, while having the rare ability as a big man who can not only shoot, but create shots for himself. He is a disciplined defender and a solid shot blocker. He is a very coachable player who is motivated and very much a student of the game.
Overall, Kentucky is not nearly as deep as last years team, as the bench goes a few players deep when it used to be an entire lineup full, but the length, energy, defense and overall talent is still that of a Final Four contender.
Duke:
Glorified coach Mike Krzyzewski and the defending NCAA Champion Duke Blue Devils lost three freshman to the NBA (Jahlil Okafor, Tyus Jones, Justise Winslow). However, the one returning freshman, Grayson Allen, may very well become not only Duke's best player but one of the best in the country.
Despite not playing heavy minutes, Grayson Allen was a huge performer in the national championship game. Allen is a great shooter and an amazing athlete. With his minutes rising, he should have a real chance to lead the Blue Devils in scoring. However, Grayson Allen can also look to seniors such as Amile Jefferson to help contribute to this team and give some guidance and experience to a great recruiting class.
The Blue Devils were able to recruit four of the top-25 prospects in the ESPN Top 100. Shooting guard Luke K​ennard will probably come off the bench as a rock solid backup when Grayson Allen needs a rest. Point guard Derryck Thorton is the new man at the point after the departure of Tyus Jones. Though he is likely a two year player, the true point guard out of Findlay Prep will get large minutes right off the bat. Number 11 overall recruit Chase Jeter will replace Jahlil Okafor as the man in the middle. With his energy and instinct, he will be a tough matchup. However, the cream of the crop of Duke recruits is number three overall recruit Brandon Ingram. Ingram is a deadly shooter with long arms and blinding speed. He is a perfect perimeter wing for Duke. Pair him with Grayson Allen and the possibilities are endless for their shooting numbers.
Prediction: In this matchup, both teams are very similar as previously mentioned. The coaches, the freshman, the NBA level potential. Also, both were in the Final Four last season. Grayson Allen will be a huge factor in the game for Duke and should give Isaiah Briscoe fits​. Duke has a deeper bench that should outplay the bench of the Wildcats. However, Kentucky returns more players with experience, including much more experienced point guard in Tyler Ulis, and Labissiere is the best big man on the floor overall. With Duke still figuring out their roles for their incoming freshmen, give the overall edge to Kentucky.
Kentucky 75, Duke 73
Game 2: #4 Kansas Jayhawks - #13 Michigan State Spartans
This battle pits teams with a little more experience than the previous matchup.
Kansas:
The Kansas Jayhawks will be seriously fueled with a tough round of 32 embarrassment to Wichita State in the tournament last season. The team returns multiple players from last years roster, including dangerous guards Wayne Selden and Frank Mason III. Wayne Selden specifically is important, as his minutes and production will increase in his junior year, so the Jayhawks will look to him as a key contributor in the backcourt. He averaged 18.9 PPG at the World University Games over the summer, and is looking to carry that over and lead the Jayhawks past the round of 32 for the first time in his entire college career. He is looked upon as a player that must improve even further if the Jayhawks are looking to go far.
However, he is not the only one. There is also respected senior and experienced veteran forward Perry Ellis. Ellis scored double figures in majority of the Jayhawks games, and if he was healthier come tournament time, Kansas would've been in a better position come tournament time. Ellis is likely going to lead the Jayhawks in scoring once again. He should be aided by strong big man Jamari Traylor, who goes from sixth man to starter this season.
The amount of depth and talent the Jayhawks have returning is intimidating, and the players are motivated to erase their tournament failures once and for all. Luckily, they have some aid from their incoming freshman players, namely Carlton Bragg and Cheick Dialio. Carlton Bragg is a great power forward with high flying athleticism and scoring instincts. Cheick Dialio is aggressive and motivated. If his raw offensive game can improve, he can pair it with his great power and speed and cause havoc. However, that is if he can play college basketball. Dialio is currently in a glorified dogfight with the NCAA for his college eligibility, with controversy about his previous school being sited. If Kansas wants to win the national championship, Dialio would certainly be a helpful thing to have. If he can play, the depth of this team, whether young or old, is not going to lose early again. Expect a deep run out of this team behind a blistering set of depth.
Michigan State:
Michigan State may have had a very inconsistent regular season, which only earned them a seven-seed in the NCAA tournament, but Tom Izzo and his usual tournament magic showed up big time for these Spartans. The team found its way back to the Final Four in a improbable run fueled by improved shooting and defense. The March Madness may happen again, but do not expect another disappointing regular season out of Michigan State.
The team returns nine players from the roster and is set up to be a potent offensive team. Returnees include centers Matt Costello and Gavin Schilling, which provide great forces in the middle. However, there is one returnee that stands out more than any of them, and that is senior guard and the best player on the roster, guard Denzel Valentine. He can shoot, score and defend. He is built Sparty tough and gives the team a huge backbone. Don't be surprised if his multi dimensional game not only nets him triple doubles, but also a first team all Big 10 selection.
Michigan State will be given a bonus, with a top 25 recruit and a star transfer arriving. Deyonta Davis is a true post player coming in as a freshman, who some have called the next Adrian Payne, who was beloved by Spartans fans. ​The big man may also be staying a little longer in East Lansing, so fans may get to enjoy a player who appears on paper to be a perfect fit.
On the transfer side, Eron Harris of West Virginia is an absolute problem that may not be easy to solve for opponents. Despite his suspension at West Virginia on his record, Tom Izzo believes Harris can and will get buckets. Honestly, there isn't a reason not to. Harris averaged 17 PPG for West Virginia, and there's no doubt he can bring that kind of production with him to East Lansing. Though this may be his only year in East Lansing as scouts are interested, he can provide memorable scoring and shooting, whether it be as a sixth man or not.
Overall, Michigan State may not be a one or two seed in the tournament, but they have the offensive talent and toughness to get back to the national semifinals again.
Prediction: Dialio being out is not fun for the Jayhawks, as he is bound to be a huge contributor for the team. Plus, with Denzel Valentine and Eron Harris being a mismatch for smaller and thinner Jayhawk guards, the Spartans have the edge now.
Michigan State 65, Kansas 62