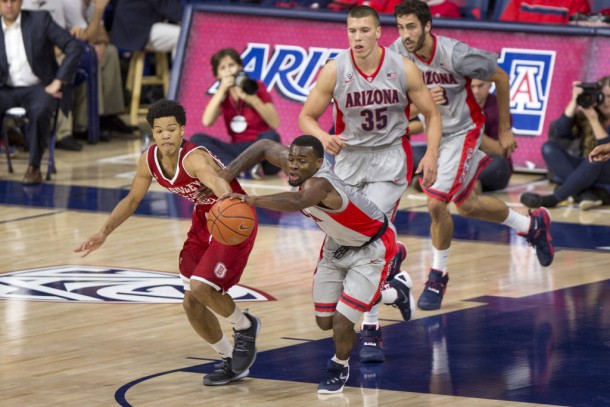 Freshman guard Alonzo Trier comes off the bench to lead the 12th ranked Arizona Wildcats over the Bradley Braves, winning 90-60, and maintaining the nation's longest home winning streak.
While he may not have been as highly touted as standout freshman Stanley Johnson was last year, Trier is the absolute real deal. Arizona went to the line a whopping 52 total times and a big part of that was because of the contribution from the young Wildcat; he attempted 14 total shots from the line and executed each to perfection.
Ryan Anderson continues to shine early on in this young season for the Arizona Wildcats. Coming off of a double-double in his debut in red, white and blue, he racks up another 15 points and continued to show off his physicality down low. Anderson will not ever be a great jump shooter but does in fact possess a fantastic touch to get easy points. If Arizona are hoping to make a deep run in March, the Boston College transfer will have to play a key role.
During the first half of the game, Arizona struggled getting anything going on the offensive side of the glass and this was because of Bradley's zone. The zone forced the Wildcats to shoot more three pointers than they were perhaps wanting too as they shot just 1-9 from beyond the arc, which accounted for a little under half of their total misses in the first 20 minutes of the game.
Sean Miller did what he does best, which is make the necessary adjustments at halftime to ensure the victory. The defense stepped up tremendously, especially out on the perimeter. In the first half, the Braves, while attempting only four shots from the other side of the three point line, made two of those shots. Bradley, throughout the course of the final half of the game, tried to find the bottom of the hoop eleven times and missed on every one. This will certainly give the Arizona players confidence going forward, especially against tougher opposition, as they produced a pretty good defensive display overall.
For Bradley, they should not be too disheartened. Ronnie Suggs came off the bench, played 34 minutes, and led the team with 17 points and drained his team's only two pointers of the night. He made a few nice plays on the defensive side of the ball, including one play in particular in the first half in which he drove into the passing lane and running down the other end of the court before finishing strong at the rim.
Arizona continue their opening home stand as they welcome Boise State to the McKale Center on Thursday. For Brian Wardle and his Braves, the schedule does not get any easier as his young squad has to go to a hungry Virginia team who just got upset tonight by George Washington.