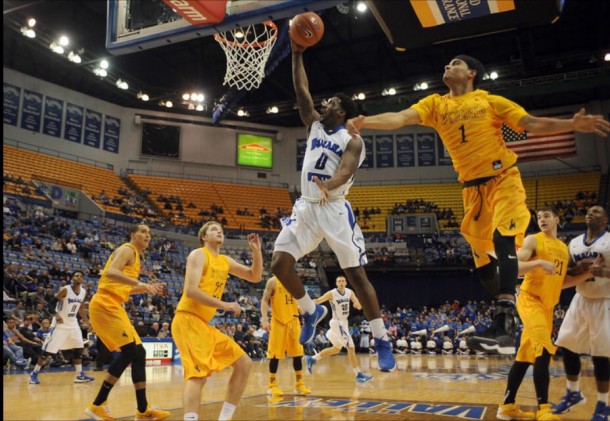 The Indiana State Sycamores knew tonight's game was a must win. 
"How do you figure? It was only their second game of the season."
Tonight was essential because Greg Lansing's squad needed to ease the home faithful's worries of a repeat of last season's non-conference record (4-8). Additionally, Indiana State's next game would be on the U.S. Virgin Islands against a very good Norfolk State team. Therefore, tonight's Mountain West/Missouri Valley Conference Challenge showdown against Wyoming became imperative since a win was necessary to have any momentum heading into the Paradise Jam, 
The ball was tipped and immediately neither team had their legs underneath them as both missed their first three attempts (all three pointers). Actually, despite a shot tickling the twine to prove there was no invisible lid on both baskets, Indiana State and Wyoming still struggled. In fact, at the under eight TV timeout the respective squads had only 13 points apiece! Think about the following for a moment. The teams had only 13 points in the first 12 plus minutes! How pitiful is that? 
It is absolutely mediocre! Though, unlike their opponent, the Sycamores were able to turn over a new leaf at the third TV stoppage and closed the first half on a 19-2 run. Interestingly, big man Brandon Murphy ended up scoring six points in the last 7:52, which was more than any Cowboy scored in the first half!
Exiting halftime, Indiana State picked up right where they left off with a wide open layup by Khristian Smith off an ally-oop pass from Everett Clemons to extend the lead to 31-15. Though the Cowboys were not down and out, for Jason McManamen knocked down back-to-back threes to wither the deficit to 10. We had ourselves an ole fashioned shootout now! 
Three minutes later, McManamen struck again with another trey to lessen Indiana State's advantage to 9. At this point, the crowd was growing restless while mental images of the IUPUI game flashed in their heads.
Fortunately for Sycamore country, Matt Van Scyoc, who had no points on Friday night, put the final bullet in the chest of the Cowboys' with a three pointer at the 6:53 mark to extend their lead back to 16. Game, set, match!
Had a Bad Day
For the Wyoming Cowboys to have a quality season to follow last year's run to the NCAA Tournament, it is crucial for Josh Adams to play like a star senior. Monday night, he was anything but. Although Adams, who was 4 for 13 from the field and 4 for 9 from the charity stripe, netted a team-high 13 points, he could not get anything to fall through the cylinder on a consistent basis. Make sure to keep an eye on his individual performances in particular since the Cowboys will succeed as he does personally.
Moving Forward
Following tonight's 70-55 defeat, the 1-1 Wyoming Cowboys travel home to host non-Division I New Mexico Highlands before inviting Montana State for the first of a home and home. As previously mentioned, 1-1 Indiana State will travel to the U.S. Virgin Islands to compete in the Paradise Jam. The Sycamores will take on Ohio or Tulsa in their second game.
He Said It
In his opening comments, Indiana State head coach Greg Lansing said, "I couldn't be happier. That's a really good team win against a very good team that was 25-10 last year. They lost some guys  but have key guys back. I think Adams is as good as any guard, probably in the country. He is very, very talented and I thought we did a very good job on him for the most part."
He Said It (Part II)
"We still need to keep cleaning up defensive stuff and you could ask me that before going into the tournament (Arch Madness) in St. Louis. I want them to be perfect. Some guys are going to beat you some time, but I want them to follow the game plan perfect. And then on the offensive end it is always ball movement and being unselfish. If you are doing that, good things are going to happen."
-Greg Lansing on what adjustments need to be made heading into Norfolk State.
He Said It (Part III)
"Absolutely, I have never been out there, so it's going to be very---I mean we won't be having much vacation time with coach, but it will still be fun just to be out there. New environments and where most of us have never been. Always raved about going." 
-Indiana State Sycamores' guard Devonte Brown's response to "How excited are you to go down to the Virgin Islands. What are you looking forward to most? Getting out of the cold?"