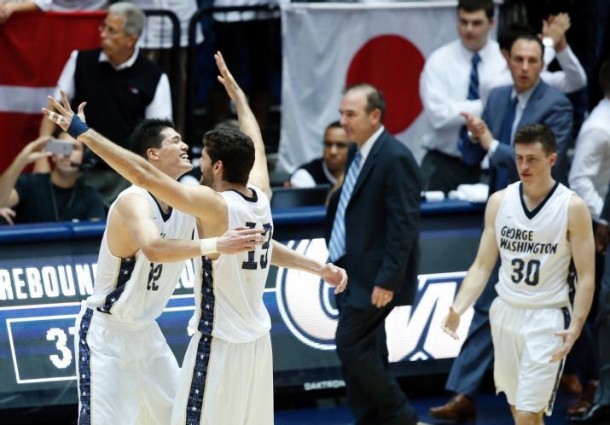 WASHINGTON, DC -- George Washington (2-0) finished off a 73-68 upset of sixth-ranked Virginia (1-1) on Monday night, as the Cavaliers' lack of support for Malcolm Brogdon cost them another thought-to-be gimme.
Brogdon scored 28 on the night for Virginia, also tallying eight boards and four assists, but it wasn't enough to prevent GW from hanging around and striking late in the game to claim the 'W'.
Tyler Cavanaugh and Patricio Garino took over when it mattered to withhold Brogdon's 20 second-half points and pull of a 19-13 run in the final 8:29 to triumph in a game the Colonials rightfully deserved.
Both Cavanaugh and Garino finished with 18 and five boards to lead George Washington. Joe McDonald added 10 points and seven rebounds and off the bench, and Paul Jorgensen played 24 minutes and scored an additional 10. Kevin Larsen contributed nine, seven, and five assists.
On Virginia's side, Mike Tobey scored 10 and hauled in seven rebounds. Anthony Gill had 11 and five.
GW held the Cavaliers to a woeful night of shot selection and efficiency, as Virginia went a woeful 5-20 from the field and shot 40.3 percent overall on the night. Over the final minute-twenty, the team fired up three shots from long range and missed all three.
"We can't [say], 'We were just off, it wasn't our game.' It wasn't that," coach Tony Bennett said. "We got outplayed. We got out-executed. Sometimes, you forget how hard it is, and these settings remind you awfully quick."
'These settings' refers to the sold-out Smith Center on-campus at George Washington, where fans played a phenomenal in the surge-based result. Bennett also added: "What a college basketball atmosphere. I usually have my suit on. I sweated through that thing," Bennett said. "I was very impressed with that atmosphere. We knew it would be that."
Virginia hadn't lost to the Colonials since 1974, and the winners Monday night hadn't defeated a top-10 opponent since 1998. However GW coach Mike Lonergan didn't feel there was reason to be alarmed or harmed in the rankings for the Cavaliers.
"That loss shouldn't hurt them if we do what we're supposed to do this year," said Lonergan. "You have to take advantage of those opportunities. You don't get them very often. I wish Maryland would play us and Georgetown would play us."
"George Washington is a really good team. It helps us down the line. It hurts right now, of course. In the long run, it really helps us," added Anthony Gill.
After a mediocre first-half for Virginia, Malcom Brogdon went off in the second to end with a career high in scoring, but was evidently still disappointed with how the team played as a whole. "We had uncharacteristic breakdowns that we usually don't have. I think it's a combination of us not communicating and taking the foot off the gas in the second half."
The Cavaliers will look to bounce back Thursday as they host Bradley, while George Washington looks ahead to a matchup with South Florida on Thursday.