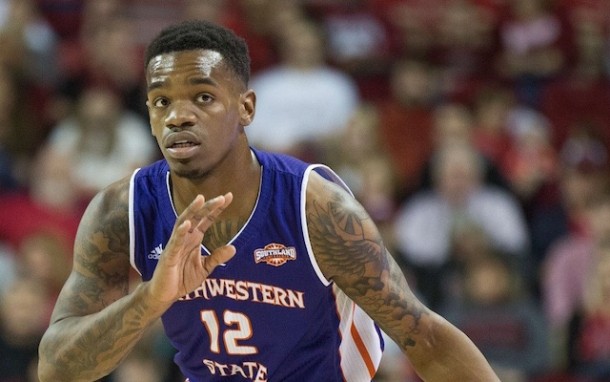 As quickly as the 2015-2016 season began, the Northwestern State Demons' NCAA Tournament hopes have nearly evaporated. How? MRI results on "star senior" Jalan West's knee have confirmed a torn ACL, which will require season-ending surgery.
West, who is a part of the best scoring duo in all of college basketball, suffered the injury in the final minute of Friday night's 90-76 loss to Ole Miss during a drive to the basket. Matched against Stefan Moody, the 5'10" playmaker held his own with the All-SEC 1st teamer, for he netted a team-high 25 points on 8 for 13 shooting from the floor. Additionally, the 2014-2015 assist leader of Division I men's basketball (7.7 per game) ended his first and last game of the season with a game high six assists.
Because of his season being stolen away this year, Northwestern State will appeal to the NCAA for West to be given a sixth year of eligibility. 
Following the test results on his knee, the 22-year old commented he will consider all options available to him, including entering the NBA Draft, next year after his graduation in May. If West does not return, he will have finished his Demons' career with 1,592 points, good enough for fifth most in school's history.
Without the aforementioned superstar, Zeek Woodley (22.2 PPG, 5.0 APG, & 1.0 SPG last season) will be thrust into a more active role in the offense in addition to sophomore Devonte Hall (5.0 PPG, 2.1 RPG, 1.8 APG, & 1.0 SPG). Monday night, Hall was phenomenal in his first start of the new season as he posted career highs of 16 points and 11 assists versus LSU Alexandria.
The 0-2 Northwestern State Demons will try to raise their sinking ship from the waters of mediocrity when hosting 2015 College Basketball Invitational finalist Louisiana-Monroe on Thursday night at 7:30 PM EST.