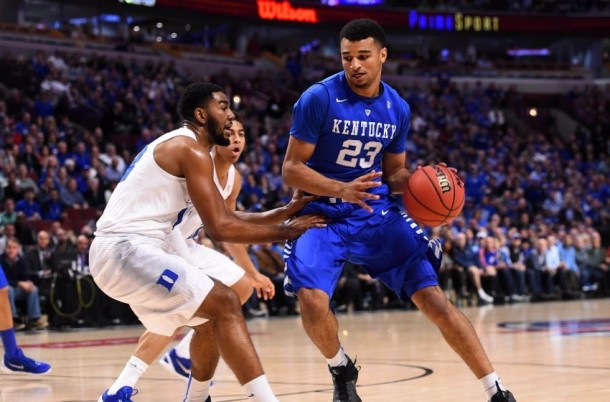 For a game that remained a double-digit lead in favor of the Kentucky Wildcats for the majority of the second half, this game looked one play away from a shift.
Whenever Kentucky and the Duke Blue Devils play, viewers expect crazy things. The history of this rivalry lives up to the hype; and so did this game.
Kentucky hadn't beaten the Blue Devils since 1998 in a run to the National Championship. When these two teams meet, it becomes one of the most intense games of the year. The winner gets to claim who reigns supreme in the blue bloods of college basketball.
Kentucky used their guards to overpower Duke in the back court. Duke has no true point guard; Kentucky has three. Those three point guards, Tyler Ulis, Isaiah Briscoe and Jamal Murray, all put their mark on this game to secure the win.
Foul trouble was an issue on both sides, more so on the Kentucky big men. Both of Kentucky's starting bigs, Skal Labissiere and Marcus Lee, fouled out with over four minutes remaining in the game. Duke's Grayson Allen and Brandon Ingram struggled to score and both ended with four fouls.
Kentucky looked deep into their bench for support after Duke got off to a hot start on the boards. Freshmen center Isaac Humphries ended up holding his own in the paint until senior forward Alex Poythress also found his way into the game. The teams ended up tying in the rebound category 39-39.
Kentucky used their talent and speed to get out on the break; outscoring Duke 18-4 in fast break points. Kentucky's speed running the court looked overwhelming for the Blue Devils.
Kentucky's guards were the defensive threat. You usually see 7-footers for Kentucky blocking shots, but in this game you saw fantastic on ball defense by the 'Cats. Once the ball got in the paint to a big man the excited freshmen of Kentucky got off their feet too fast.
This win is one 'Cats fans will gloat about all season. This game will also measure how well this young team can play when they're tested.
So far, this group of high school stand-outs have passed.
Player Statistics
Tyler Ulis: The smallest man on the court led all scorers with his 18 points. Ulis also chipped in six assists and four rebounds to notch his best game of this early season.
Jamal Murray: Murray got back to his old self after an off game in his last outing. The combo guard finished with 16 points, five assists and five rebounds.
Marcus Lee: Lee came off the bench and gave his team a double-double, 10 points and 10 rebounds, before he fouled out in the second half.
Matt Jones: Jones finished with 16 points and looked dangerous from the perimeter. He hit 3-6 from downtown with his shots coming at timely moments.
Amile Jefferson: Jefferson plain destroyed on the boards. He had 16 points to match his 15 rebounds. The Duke big men were too much for Kentucky to box out. Jefferson took clear advantage.
Marshall Plumlee: The Duke senior had his best game in a Blue Devil uniform. He ended with a double-double, scoring 12 points and grabbing 10 rebounds (six offensive), while also blocking six shots.
Upcoming Schedule:
Wright State at #2 Kentucky 11/20/15
#5 Duke - VCU 11/20/15