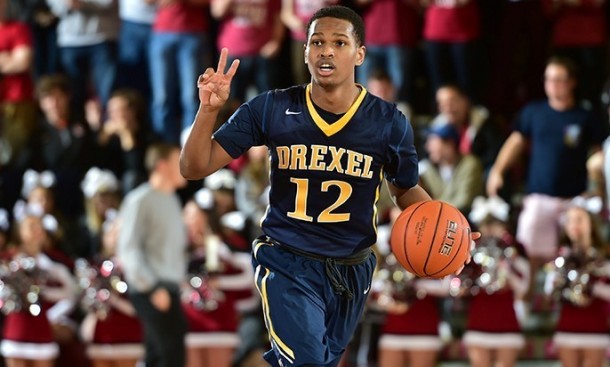 Drexel Dragons - High Point Panthers
Wednesday, November 18th, 7:00 PM EST
John A. Daskalakis Athletic Center, Philadelphia, Pennsylvania
---
Coming off a tight loss to St. Joe's on opening night, Drexel (0-1) is hungry for victory in their home opener Wednesday night against High Point (1-1).
Terrell Allen and Tavon Allen led a late charge for the Dragons on Hawk Hill, falling just short after ending the game on a 16-5 run. Terrell claimed Colonial Athletic Association Rookie of the Week honors after recording 18 points, four assists, and four steals on the night. Tavon, coming off the bench as the sixth man, scored 16 in the second half to finish with a team-high 20 points. Both players only turned the ball over once each.
Fellow guard Rashann London added 11 on the game, making it clear that the Dragons feed off their stellar backcourt play and will continue to do so in game two at home Wednesday.
After an injury-plagued 2014-15 and the departure of fifth-year senior Damion Lee to Louisville, Drexel coach Bruiser Flint must be pleased with the potential that can be seen of his players thus far.
---
The Opponent
The High Point Panthers are currently looking up after a thorough 93-69 dismantling of NC Wesleyan. In that win, John Brown looked phenomenal, recording career highs in points (23) and blocks (6) while going 8-10 from the field in coach Scott Cherry's two-forward, three-guard system.
Speaking of coach Cherry, Sunday's victory placed him atop High Point's list of most successful coaches in the school's Division I history. He holds an all-time record of 97-92 (.513) and an in-Big South Conference mark of 62-42 (.596).
And his system? Brown and Lorenzo Cugini start in the frontcourt with a backcourt of three rotating guards, normally two scoring and one distributing on the court at once. The two forwards certainly have leaded the team thus far into the year; Brown has averaged 18.0 points and 6.0 rebounds per game while Cugini is putting up 15.0 points and 4.0 boards.
Adam Weary is leading the guards with averages of 13.5 points and 5.5 rebounds, while Anthony Lindauer has also recorded 12.0 points per game.
All of the Panthers' starters are upperclassmen, three being seniors. Despite an opening night loss at Texas Tech on Friday, this team certainly has dangerous ability to pull upsets left and right.
---
Projected Starting Fives
High Point
G-Anthony Lindauer
G-Jorge Perez-Laham
G-Adam Weary
F-Lorenzo Cugini
F-John Brown
Drexel
G-Terrell Allen
G-Rashann London
G-Sammy Mojica
F-Rodney Williams
F-Kazembe Asif
---
What To Watch For
1. High Point's assertion inside
While both teams play three-guard formations, the Panthers rely on the play of their two senior frontcourt players Brown and Cugini. Drexel will need to possibly find help off the bench to contain in the paint and make someone else beat them.
2. Strong follow-up for Terrell Allen
High point struggled mightily to contain the scoring of Devaugntah Williams against Texas Tech, surrendering 26 points to the 6-4 senior. Allen has been given the opportunity to shine with this starting role in the offense and he shouldn't let the team down Wednesday.
3. Bench points
Tavon Allen scored 20 off the bench against St. Joe's on Friday, and he'll be big again at home to provide the spark the Dragons need to catch fire and run away with this one. Once the game breaks open, Drexel will have the chance to cruise into a big advantage if they can get consistent reserve play. It's the same deal for High Point, who got 12 points and six rebounds from Ricky Madison in 13 minutes off the bench Sunday.