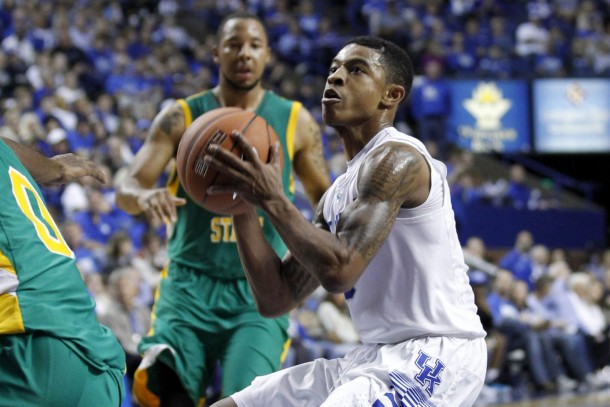 Kentucky's star freshmen contributed to this game, but the most notable stars are two players who have spent a little more time in the Blue and White.
Tyler Ulis matched his career high game against Duke with another career high. Ulis scored 21 points and dished out five assists. The sophomore point guard played all but four minutes of the game to lead a young team on offense almost constantly.
Kentucky senior Alex Poythress put in his best game of the year after returning from a torn ACL last December. Poythress collected a double-double with 10 points and 10 rebounds. The 6'8" 240lb forward looks better and better every game following that injury.
The Raiders made it obvious from the start they were not just going to let the Wildcats put them away. They used their defense to shut off driving lines and their fantastic shooting to stay within striking distance of the 'Cats.
Kentucky used a second half surge following a double technical foul (UK's Jamal Murray & Wright State's Joe Thomasson) to gain a 20-point lead on the Raiders. Wright State would bring it to within as much as 11 points before Kentucky coasted to the finish line.
Kentucky's inability to pull away from a team they should have been blowing out caused a stir in Rupp Arena. If it wasn't for the constant screaming of Kentucky head coach John Calipari then the sound of a pin dropping could have been heard inside that arena.
It's a long season, these players have a lot of time. The early struggles in this game will not be a problem down the road.
Player Statistics
Tyler Ulis- If Ulis continues to do what he's doing all year, Kentucky has the best point guard in the NCAA. Ulis has another career night with 21 points and five assists. How does someone guard a 5'9 player who can score 21 points or dish out 21 assists on any given night? The answer is you don't. You can only hope to contain him.
Grant Benzinger- Benzinger drew lots of fouls in this game and found himself at the line a lot in the second half. He hit 8-9 at the free throw stripe and knocked down 3-6 threes to get 19 points.
Isaiah Briscoe- Briscoe used his hesitation move combined with his speed to get to the rack in this game. The 6'3 guard finished with 15 points and two assists. A problem for Briscoe is his free-throw shooting, hitting 1-5 from the line tonight. The point guard will need to improve on this if he wants to be included in late-game situations.
Jamal Murray- Murray had a quiet 13 points, the majority coming from the stripe. He hit all 10 of his free throw attempts and one three in the early stages of the game. He added six rebounds to his stat line.
Upcoming Schedule
Boston University at #2 Kentucky 11/24/15
Wright State at George Mason 11/28/15