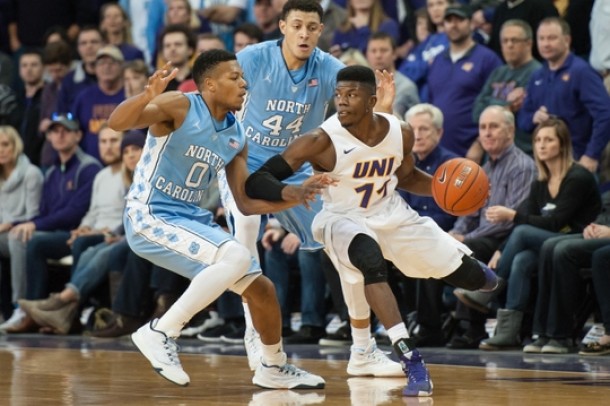 The North Carolina Tar Heels really struggle when they're the best.
Ranked #1 in the country, the UNC Tar Heels (3-1) came out and blew a nine-point halftime lead, dropping a 71-67 decision to the Northern Iowa Panthers (2-1), dropping their 31st game all-time when ranked #1. The 31 losses are second to Duke's 32.
UNC out-rebounded Northern Iowa 40-to-30 but also turned the ball over 12 times to Northern Iowa's six.
The Panthers were led by a balanced offensive attack with all four of their starting guards getting at least ten points, led by Wes Washpun's 21 points. Matt Bohannon and Paul Jespersen both knocked down four three-pointers on their way to 19 and 14 points respectively.
The previously undefeated Tar Heels got 25 points from Justin Jackson, but it wasn't enough as UNC wasted a 41-32 halftime advantage.
UNC's Kennedy Meeks got eight of his ten points in the first 2:20 of the game, scoring the Tar Heel's first eight points as they took an early 8-5 lead after Meeks' layup with 17:40 remaining in the first half.
Nobody scored for nearly four minutes - the teams combined for six missed shots in the scoreless period that lasted for three minutes and 37 seconds.
A few minutes later, the teams traded mini-runs. UNC went on a 7-0 spurt, capped by Jackson's three-pointer that gave the Tar Heels a 20-11 lead. However, the Panthers came right back with a 10-0 run of their own, taking a 21-20 lead on a pair of free throws from Jespersen - his only points of the day that didn't come from beyond the arc.
UNC responded by scoring the next 11 points, taking a double-digit lead of 31-21 on Theo Pinson's jumper. The Tar Heels opened up a lead that grew as large as twelve points before Washpun's three-pointer with one second remaining in the half gave the Panthers a small amount of life, heading into halftime down, 41-32.
However, any momentum Northern Iowa had garnered was squashed when UNC opened the second half on a 9-2 run, taking a commanding 50-34 lead with 17:13 left in the game.
Slowly, however, the Panthers crawled back into the game. Back-to-back-to-back three-pointers from Bohannon and Jespersen (2) brought Northern Iowa within seven points. Finally, with 10:56 left in the game, Bohannon swished a free throw that tied the game at 54 points apiece. Over a six minute and 21 second span, the Panthers had outscored the best team in the country, 20-4.
Just over three minutes later, the Panthers took their first lead since they led 5-4 in the first minute of the game. Bohannon took a feed from Jespersen and fired a three-pointer through the net for a 59-58 lead. Washpun netted consecutive layups that pushed Northern Iowa's advantage to five points, their first lead of more than one point. UNC got a three-pointer from Joel Berry II and then a layup from Jackson to tie the game again at 63-63.
Bohannon responded with a clutch three-pointer that vaulted Northern Iowa into the lead for good. Washpun collected a defensive rebound at the other end of the court and dribbled right back down to lay the ball off the backboard and in for a 68-63 lead. Meeks made a jumper, his first points since his hot start, but the Panthers began to stall, forcing UNC to foul them. A pair of free throws from Bohannon gave Northern Iowa a 70-65 lead. Jackson made a jumper with 59 seconds remaining and Theo Pinson fouled Wyatt Lohaus, who missed the subsequent free throw.
With half a minute remaining in the game, UNC had a chance to tie it up but Berry missed a three-pointer with fifteen seconds remaining. Jeremy Morgan sent the clinching free throw through the hoop with six seconds remaining, as Northern Iowa shocked the nation's #1 team, 71-67.