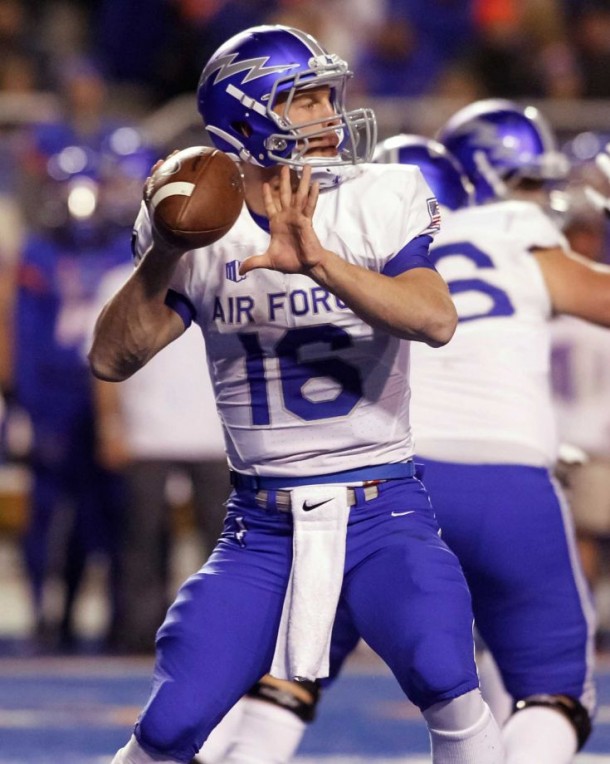 Karson Roberts did something that Air Force quarterbacks normally don't get to do - air it out.
The Falcons upset the Boise State Broncos on the blue field Friday night, thanks in part to Roberts' 279 yards and two touchdowns through the air. For a triple option team that likes to pound the football, that amount of passing yards is incredibly unusual. In fact, Roberts' 279 was the most yards thrown by an Air Force quarterback since Dee Dowis threw for 306 in a game against Notre Dame back in 1989.
"That was definitely fun," Roberts said after the game.
The Falcons needed every inch. Boise State, who has won at least a share of a conference title seven of the last ten years dating back to their time in the now-defunct Western Athletic Conference, jumped out to a 17-3 lead by the end of the 1st quarter.
"It wasn't the best start," said Roberts, who fumbled on the Falcons' first offensive play from scrimmage. "It was really about as bad of a start as you can get. But the coaches settled us down and reminded us that there was a lot of football left to play."
Air Force would dominate on both sides of the ball in the second quarter, as they would score 21 unanswered to take a 24-17 lead into halftime. Air Force would stretch that lead to 21 in the middle of the third quarter before Boise State fought back. The Broncos scored 14 unanswered points, a field goal late in the 4th quarter by the Falcons made it a two score game late in the contest. The Broncos were able to get a field goal with 11 seconds left in the game, but a bad onside kick sealed the game for Air Force.
Air Force coach Troy Calhoun was happy with the victory, but realized that the team still had improvements to make if they wanted to take home the Mountain West Conference crown.
"We were fortunate to get the win tonight, and we've got to improve," Calhoun said. "There's just a lot of work left for us to do."
Boise State lost consecutive home games for the first time since 1997, and they are now out of the running for MWC Mountain Division championship. Quarterback Brett Rypien struggled getting the ball downfield on the Air Force defense, completing 23 of 48 passes for only 237 yards, an average of 4.9 yards per completion. Running back Jeremy McNichols, however, was able to torch the Falcons' defense early, racking up 151 yards and a touchdown on 20 carries.
Asked after the game if Boise State would have the motivation to play after two straight home losses, Coach Bryan Harsin said "I've never really been into that. You play the game regardless. We'll find out about this team. I don't think it's ever what are we playing for. You only get so many opportunities and your career at some point is going to be done, probably a lot sooner than most want it. If we're convincing guys to have to play, that's a problem. And I haven't seen that yet."
Air Force not only got 279 yards in the passing game, but they were also to make big plays in the running game, as well. Roberts had 16 carries for 66 yards and a touchdown, and leading rusher Jacobi Owens took the ball 20 times for 145 yards.
Air Force can make the Mountain West Championship Game one of two ways. A New Mexico loss this week against Colorado State clinches a spot for the Falcons. If New Mexico loses, then the New Mexico-Air Force contest next week will be for the Mountain Division Championship. Despite being a charter member of the Mountain West Conference back in 1999, Air Force has never won a Mountain West Championship.