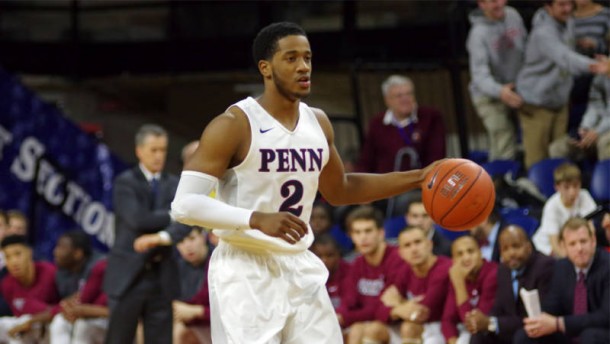 SEATTLE, Wa. -- The Penn Quakers are 3-0 no more. And they aren't 4-0 either.
Brought back down to earth Saturday night, the Quakers (3-1) took on the Washington Huskies (3-0) for a Saturday bout in Seattle. It didn't start out ideally whatsoever, as the Huskies went up 16-0 from the get-go and led the whole rest of the way.
Freshman PF Noah Dickerson, who finished with 13 points, seven rebounds, and three blocks, explained UW's fast starts this season pretty basically. "We get after it from the get-go. We're ready," he stated.
Dickerson's teammate and fellow freshman Dejounte Murray led all scorers with 22 points (15 in the first half), also racking up five boards and four assists. He did have five giveaways but evidently, that didn't affect Washington all too much.
A blowout in every facet, Saturday's contest saw a massive gap in shooting efficiency. UW shot 51.3 percent from the field, while the Quakers went a miserable 32.8 percent on their field goal attempts. The Huskies were also 8-20 from beyond the arc as opposed to Penn's 6-28 from three.
Washington had never beaten Penn, losing twice in previous matchups, but approached this particular contest with a rigor and mentality that significantly excited coach Lorenzo Romar: "I couldn't be more proud of our team, how we went out and played and approached the game."
Senior guard Andrew Andrews was an additionally significant benefactor to the Huskies' 'W' early, pumping up the crowd and finishing with 16 points and five rebounds. Freshman forward Marquese Chriss added 15 points, six boards, and three steals, and David Crisp came off the bench to score 14.
Darien Nelson-Henry led the way for Penn in somewhat of a homecoming game for him. The Kirkland, WA native finished with 13 points and six boards for the Quakers, tallying the most points for the team for the second straight game. Matt Howard added 10 and eight boards for Penn; Darnell Foreman had nine off the bench.
The Huskies used a 20-8 run late in the first half to push the lead out to 54-30 by halftime, cruising the rest of the way to the 104-67 victory. For a team regularly employing seven first-year guys throughout their rotation, UW is an impressive 3-0 for the second season in a row. The Quakers, who were 3-0 for the first time since 1981-82 coming into this matchup, have not been 4-0 since 1978-79.
"There's something about the excitement of youth," said coach Romar. "These guys aren't cool. They don't go out and `I don't want to play too hard because people are watching.' There's an excitement about this group that they feel like that is cool to play hard. That's how we're cool. Not every freshman group is like that."
Penn plays La Salle next Wednesday at The Palestra and the Huskies face the tough task of No. 10 Gonzaga in the Battle 4 Atlantis tournament in the Bahamas on Wednesday.