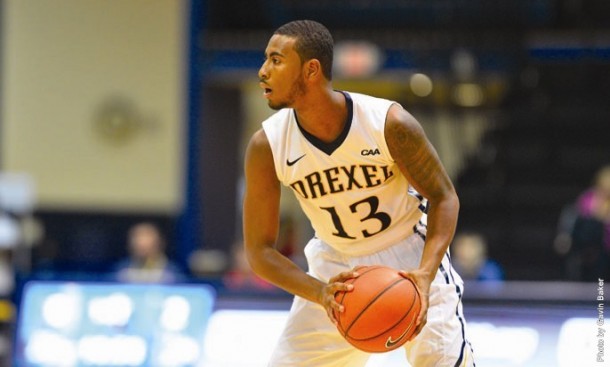 PHILADELPHIA, Pa. -- The Monmouth Hawks (2-1) flew past the Drexel Dragons (0-3) in the second half Saturday, feeding off 28 points from Justin Robinson to land an 82-74 victory at Drexel's Daskalakis Athletic Center.
Robinson shot 10-17 from the field and 3-7 from long range to hit the 28-point mark for the second straight game, as he did so Monday night in Monmouth's close upset bid at USC. He added four assists and four steals to lead the Hawks in formation to their second win of the 2015-16 campaign. Je'Lon Hornbeak added 17 points and Chris Brady had 10 and nine boards. Deon Jones led the team and tied the game high with 13 rebounds.
"I'm really proud of our kids, we really stuck together," said Monmouth head coach King Rice. "Bruiser Flint and Drexel I thought did a great job with their defensive intensity. They were very physical and made it hard for our guys to get going, but then Justin Robinson got going and Josh James got our defense going."
After an early 14-0 run by Monmouth to go up eight, Drexel finished off a strong first half up 37-31 behind 10 points from Rodney Williams. He would finish with 16 points and seven boards on the day.
But the Hawks shot out of the halftime locker room on fire, going on an 11-2 run to start the second and following that up at one point hitting nine straight field goals. They finished with an astonishing stat of 69 percent shooting for the second half, including 20 of Robinson's 20 points. Two free throws from Hornbreak gave Monmouth the lead they needed to break the game open at the 17:35 mark of the half.
Rashann London helped Drexel regain a 49-46 lead four minutes later with one of his five threes on the night, but a dunk from Collin Stewart put the Hawks back on top and the lead did not change again from that point on. London finished with a career-high 20 points on the night, hitting five of eight shots from beyond the arc and turning the ball over just twice in the loss.
The Dragons' normal leading scorers, Tavon Allen (20.0 PPG coming in) and Terrell Allen (14.5 PPG coming in), were held to just 10 and nine points, respectively. They each had five assists, but combined for half of Drexel's dozen turnovers and just seven second-half points. Terrell had no points in the final 20.
Kazembe Abif led an early advantage under the glass for Drexel, but Monmouth overcame his presence in the Dragons' three-guard lineup to finish with a 39-32 advantage in the rebounding column. Abif did, however, finish with 12 points and 13 boards in his 34 minutes.
Monmouth returns to action at 6:30 PM EST on Thanksgiving in Orlando, FL to begin the 2015 Advocare Invitational versus Notre Dame. Drexel now has a midnight date with UNC-Asheville in Anchorage, Alaska on Thanksgiving to open the Great Alaskan Shootout.