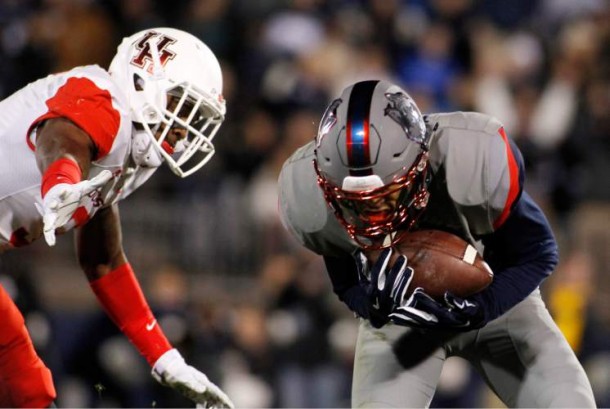 The #19 Houston Cougars were undefeated going into this American Athletic Conference game against the Connecticut Huskies. That all changed when the clock struck 00:00.
Connecticut started off the game off right, scoring a touchdown on the first drive of the game. Quarterback Bryant Shirreffs came on for one play, instead of starting quarterback Tim Boyle, and threw a four yard touchdown to Noel Thomas to put the Huskies up 7-0 early, but that would be all of the scoring in the first quarter.
Houston started off the second quarter with a 29 yard field goal from Ty Cummings to cut the deficit to 7-3. Connecticut responded with a field goal of their own, a 25 yarder from Bobby Puyol. Both offenses were struggling to get going and string together scoring drives, as it was 10-3 going into the half as the Huskies were showing they are not to be taken lightly.
The third quarter was just as quiet as well, as for the first 13 minutes, neither side could get anything going again. With under two minutes left in the quarter, Puyol hit a 35 yarder to extend Connecticut's lead to 13-3, and that closed out the scoring in the third quarter and the upset alert was ringing throughout the nation.
In the final quarter of play, Houston got their first touchdown of the game early in the quarter from a 38 yard touchdown pass from quarterback Kyle Postma to wideout Chance Allen, bringing them within three points. The Huskies responded with their own touchdown, this time another backup quarterback, Garrett Anderson, firing it to Thomas for a 45 yards to extend their lead back to ten points. On the kickoff return following the touchdown, Brandon Wilson returned the kick for a 95 yard touchdown, quickly bringing the Cougars to within three. Houston was fighting for their undefeated season.
Houston was trying to drive and either tie or win the game. However, quarterback Kyle Postma was injured, sending in hobbled QB Greg Ward Jr., who eventually threw an interception to Jamar Summers, and UConn attained the massive victory.
Connecticut held Houston to just 318 yards and only one offensive touchdown. Their offense was very balanced, as Boyle threw for 110 yards and running back Arkeel Newsome ran for 114 yards, but neither had a touchdown. Connecticut moved to 6-5 on the year and take on Temple next week to close out the year.
This was the Huskies' first win over a ranked opponent since 2012, while it also was their first win over an undefeated ranked opponent in school history. This is a dramatic turnaround from the Connecticut squad that has failed to get any traction in conference play for years.
Houston was still without Greg Ward Jr. starting, despite him coming in for a few plays. Kyle Postma played well, but not well enough to pull out another victory like he led against Memphis last weekend. Houston is no longer undefeated, now at 10-1, and play Navy next week to try and make it into the conference championship game. There are now only two undefeated teams in the nation, the Iowa Hawkeyes and the Oklahoma State Cowboys, as Houston and the Ohio State Buckeyes both lost today.