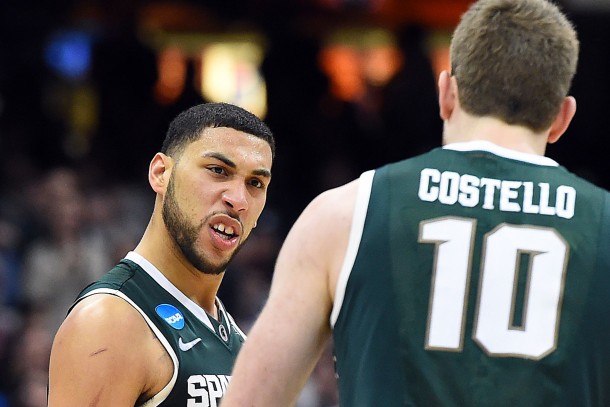 Number three ranked Michigan State took on Eastern Michigan on their home court and it was all Spartans as expected.
The game started out slow for the Spartans and the Eastern Michigan faithful were gaining hope for an incredible upset. Then the real Spartan team came out and started playing the way they always do.
Shooting threes, outrebounding Eastern Michigan, and pushing the tempo were just three of the many ways the Spartans were able to take this one.
The Spartans jumped out to a 15-point lead at halftime and never looked back after that, leading to a 89-65 victory over the Eagles
Led by Freshman center Deyonta Davis' career-high 16 points, the Spartans dominated down low against Eastern Michigan's 2-3 zone. Denzel Valentine neared another triple double with 12 points, nine rebounds and seven assists. Davis and Valentine were two of five Spartans that were in double digit scoring.
Eastern Michigan on the other hand came up short when it came to scoring. They were only able to get two players in double digit scoring. One of these players was junior guard Ty Toney, who had 18 points and also grabbed three rebounds. Junior guard Willie Mangum was also in double digit scoring with 10 points.
This loss puts Eastern Michigan at 2-2 on the year. It is a decent start for this team, especially because their two losses have come to teams that have yet to lose; Michigan State (4-0) and Oakland (1-0). It will be a tough year for this team, they lost four of their starters from last year and another is suspended indefinitely. These games against teams ranked in the top 25 are the types of games that the smaller school plays with all the heart they have and they see if they can complete the upset.
Although they were unable to win, this team still played hard. In the end, the Spartans were just able to score whenever they wanted. With only two players in double digit scoring it is hard to beat any team, unless you can lock the other team down on defense. Eastern Michigan was unable to slow the Spartans on offense and that is what ultimately led to this big defeat.
Up next for this team is a home game against Marygrove this Wednesday at 1:00 p.m. CT on ESPN3.
Michigan State on the other hand gets yet another win that they were expected to win. That is one of the many things that a high ranked team goes through. They play teams early in the season that should have no chance against them. It can sometimes cause problems for high ranking teams, because the underdogs can sneak up on a good team and steal an early season win. It happened to North Carolina, who recently lost to Western Illinois.
Up next for the Spartans is their first game of the DirecTV Wooden Legacy tournament in Fullerton, California against undefeated Boston College (3-0) this Thursday at 5:30 p.m. CT on ESPN3.