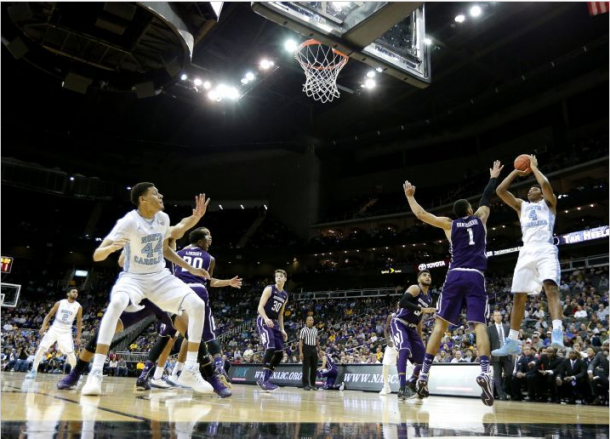 It was a strong performance from the Northwestern Wildcats but the talent of the North Carolina Tar Heels was too much as they advance to the final of the CBE Hall of Fame Classic in Kansas City.
Considering they were underdogs coming into this game, Northwestern didn't start as underdogs. Early on the Wildcats stuck with the Tar Heels and their shooters were a big part of it. Aaron Falzon, Tre Demps and Scottie Lindsey all hit three's in the first half to help Northwestern stick with one of the top teams in the country.
The Wildcats also took advantage of the inexperience of North Carolina's backcourt as Bryant McIntosh had his way with their guards early on. It was a tough first half for the Marcus Paige-less backcourt for North Carolina as their point guards didn't have a field goal until five minutes left in the first half.
Behind the play of Lindsey and big man Alex Olah, the Wildcats took a 35-29 lead with three minutes left in the first half and the sense in Kansas City was that an upset was brewing. But the Tar Heels bounced back with a big 14-1 run to end the first half and they took a 43-36 lead going into halftime.
Northwestern got back into the game quickly as Tre Demps scored 10 points in the first two minutes of the second half. Demps, who had a great second half and finished with 21 points for the Wildcats, helped keep his team in the game in the second half but the rest of the Wildcats were nowhere to be seen in the second half. Olah, who was a big presence in the first half, couldn't produce in the second half as Justin Jackson, who finished wit 21 points, had his way in the second half.
Behind the play of Jackson, North Carolina went on a 20-5 run to balloon the lead up to twenty with less than nine minutes to play in the second half. From then on it was cruise control for the Tar Heels as they were able to make some key plays at the end to fend off a late Northwestern run. The Wildcats cut the lead down to nine with 3:50 left to play as the 2-3 zone confused UNC on offense, but two back-to-back good possessions by the Tar Heels essentially ended the game.
It was a solid effort from Northwestern considering the team they were facing. They had an impressive win against a solid Columbia team but couldn't step up against one of college basketball's elite. The next game for the Wildcats will be against Missouri in the third place game tomorrow and the final will be between North Carolina and Kansas State, who blew out Missouri in the other semifinal.