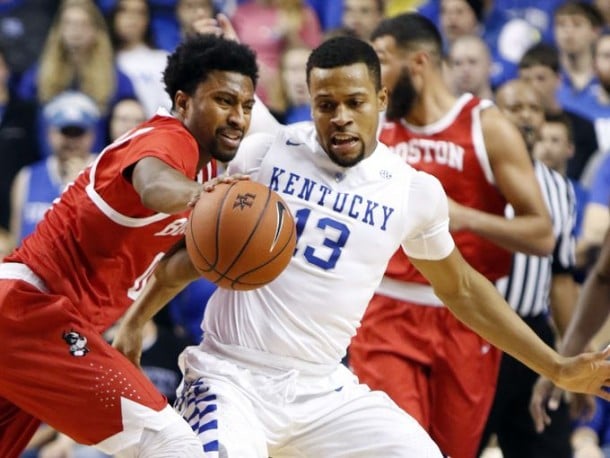 The Kentucky Wildcats opened up their first game as #1 quickly, going up 10-0 to start the game. Boston University responded by hitting shots and keeping the game close until half time.
Kentucky had a hard time defending the sharp shooters from Boston, going under screens and leaving too much space when fighting through them. The Terriers stuck right with Kentucky with their long-distance shooting.
Kentucky continuously attacked the paint on offense, scoring 58 points down low. With a 40+ margin in points in the paint Kentucky should have coasted to a win if it wasn't for Boston's jump-shooting.
The game had a tense aura to it, with Boston hanging around and the Wildcats getting restless because of that.
Kentucky's Marcus Lee was rolling to the rim in the second half and got tangled with Nathan Dieudonne and shoved him to the ground. Lee was pushed from behind by Nick Havener after the initial shove. Two technicals were called as a result and the situation was handled very poorly. Poor sportsmanship from both sides and messy officiating occurred during the incident.
After the technicals were called, Kentucky went on a run, taking a 9-point lead to a 24-point lead in just eight minutes. Kentucky has been called for five technicals this season and seems to play better once teched up.
Kentucky also plays better as #1, having only lost 28 times as the nation's top team. Kentucky has definitely spent a lot of time atop the polls and that makes that number even more impressive.
The Wildcats do notch their fifth win and first win as #1 on the season. With an upcoming road game the 'Cats need to get ready for a fight as every team is looking to knock them from the top of the mountain.
Player Statistics
Skal Labissiere- Labissiere had a rough patch of games but responded against Boston. He had 16 points and seven rebounds on 7-13 shooting. The big man finally showed flashes of greatness on defense, sending multiple shots into the stands.
John Papale- The sharp-shooting senior showed exactly why not to leave him open. He had 15 points and knocked down three 3-pointers. Papale did not look phased by Rupp Arena, using his experience against the young guards of Kentucky.
Tyler Ulis- Ulis didn't match his career high, but he once again put his mark on the basketball game. The sophomore had 15 points, six rebounds and six assists. A 5'9 guard having six rebounds is outstanding, it proves how scrappy this floor general is.
Alex Poythress- Poythress continues to impress every game showing athleticism everyone thought was lost. The lone senior had 14 points and 10 rebounds to record his fourth double-double in his Kentucky career. Seeing Poythress produce these kind of numbers not even a year removed from an ACL tear has a huge emotional appeal.
Upcoming Schedule
#1 Kentucky at South Florida 11/27/15
Boston University at Binghampton 11/28/15