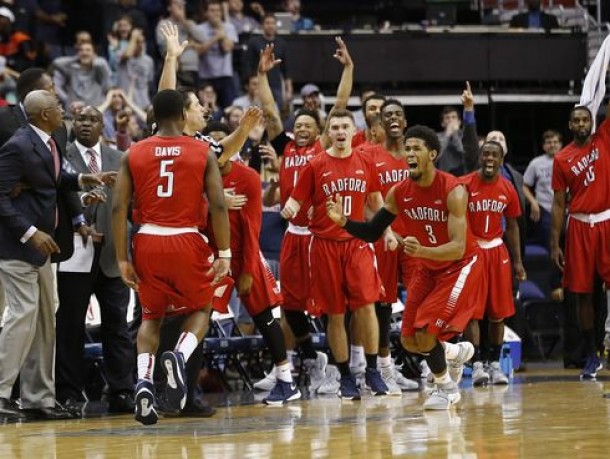 When Rashun Davis nailed the game-winning three to knock off the Georgetown Hoyas a few weeks ago, you could feel a new air around the small city of Radford, Virginia. Head coach Mike Jones had finally built a true contender full of shooters that could keep the Highlanders in any game. However, in the past few weeks there have been a few roadblocks for the mentally exhausted team. A loss to a talented VCU team dampened the team's spirits, and the squad then encountered a close matchup with DII Catawba and a rough loss to the Siena Saints. However, a hard-fought win over Prairie View A&M seemed to have fixed some holes in the boat.
Tonight, Radford took it to Big Ten school Pennsylvania State, proving that the ship is truly alive and well. Radford played a complete basketball game, dominating in all facets of the game to prevail 86-74 up in State College.
Cameron Jones was the Highlanders' hero tonight, going wild with the long ball on 5-7 shooting from deep. He got help from his other backcourt friends like Rashun Davis and YaYa Anderson with 18 points and 14 points, respectively. This trio went an insane 11 for 13 with the trey.
Brandon Holcomb provided the balance for Radford, attaining a double-double of 10 points and 11 rebounds. His tremendous defensive presence set the tone for the night, blocking 3 shots and grabbing 9 defensive rebounds. The Penn State guards were not going to have much opportunity against the big man.
Penn State had 5 scorers in double-figures, but the lack of flow in the offensive scheme hurt them in the long run. Julian Moore was going toe-to-toe with Radford's Holcomb, scoring 16 points. Brandon Taylor also was a great force down low.
However, the Nittany Lions could not do anything in the backcourt to answer Radford's barrage of threes. Payton Banks, Shep Garner, and Josh Reaves were the backcourt starters for PSU, but they were a combined 2 for 13 from deep. Although the squad got a nice boost in the backcourt from the bench in Devin Foster, going 4 for 5 with a key 10 points, it was not enough as the Highlanders kept the rainbow shots coming.
Big South beats the Big Ten? In this one matchup, yes. This was another huge win for Radford. Although Penn State is not a basketball powerhouse, this win is still massive for a program that has been to the NCAA Tournament twice, both first round losses to #1 seeds. The new favorite for the Big South is Radford, and don't be surprised if we see them as the prime Cinderella run candidate come March Madness.