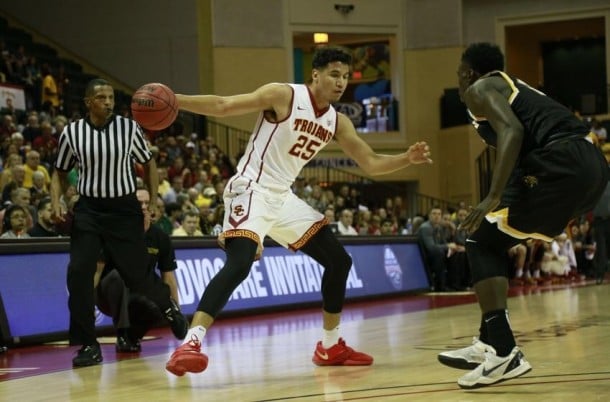 LAKE BUENA VISTA, FLORIDA---HP Field House was a sea of black and yellow for game two of this year's Advocare Invitational as the 20th ranked Wichita State Shockers faced off with the USC Trojans.
Heading into today's Thanksgiving showdown, all attention was on two-time All-Missouri Valley Conference first teamer Ron Baker instead of the Trojans' "stud sophomore" Jordan McLaughlin. McLaughlin soon changed that.
Starting the game with a three pointer, the 6'1" guard, with the assistance of "fab freshman" Bennie Boatwright, immediately stole momentum and led his fleet to an 8-2 lead going into the under four TV timeout. Coming out, the Trojans continued their march by increasing the distance between them and the Shockers to a game-high eight (22-14) at the 7:48 mark.
"The Shockers were losing?! To USC?"
Yes, yes they were. But no need to worry, because Gregg Marshall's experienced group fought back to knot the game at 26 thanks to a 12-4 run capped by a Ty Taylor II layup. Following the deuce, the two groups traded points until the buzzer signifying halftime went off with the Trojans owning a 30-29 advantage.
In the first half, Ron Baker was held to six points on two for seven shooting. The best never struggle for two consecutive halves. The redshirt senior from Scott City, Kansas, immediately made his presence felt in the second twenty minutes by nailing two treys before the first TV timeout. We had ourselves a ball game!
For the next fifteen minutes the two teams traded punches with each other for the right to advance to the semi-finals. For instance, USC scooted out to a 61-54 lead (due to back-to-back "twine tickles" from beyond the arc from Boatwright and Elijah Stewart) just before Wichita State mounted a 6-0 run to wither the deficit to 1.
Nevertheless the Shockers' crowd loudly cheering their team to victory, Bennie Boatwright (who was a high school senior earlier this year!) scored six of his team-high 22 to put USC ahead 67-62 with 2:08.
Although the Trojans had a 71-64 lead with 35 seconds remaining, Shockers' guard Zach Brown had a chance to tie the game at the buzzer with a three pointer. Evan Wessel inbounded the ball to Brown, who caught it at mid-court. He then turned to the basket, took one dribble and heaved an off balanced attempt. Clank! It went off the back rim! The USC Trojans were headed to a semi-finals for a date with Xavier.
A Showdown Of Superstars & Freshmen
Before the game, the nation knew Ron Baker and Jordan McLaughlin were going to put points on the board. But, who would have thought freshmen Markis McDuffie and Bennie Boatwright would have a scoring duel. Today, McDuffie presented a very good second scoring option to Baker, who finished with a game-high 25, for he netted 14 points on five for nine shooting. On the other end of the floor, Boatwright outscored the other half of his guard/big man duo (McLaughlin) with 22 points in contrast to the latter's 15.
USC Fight!
In most games, a team outscored by 12 points in the points off turnover department while allowing 19 offensive rebounds is going to end up with the L. Not the Trojans! Even with 23 turnovers, USC knocked down 12 three pointers (45%) while grabbing 12 offensive boards of their own. Talk about grinding it out.
Missing Van Vleet
What did Gregg Marshall learn today? Playing Division I competition without floor general Fred Van Vleet is not a cake walk! Wichita State attempted to replace Van Vleet, who missed his second straight game with a hamstring injury, with a combination of freshman Ty Taylor II and junior John Robert Simon this afternoon. The two guards played anemic and combined for five points, two rebounds, on 2 for 13 shooting.
Today's Remaining Advocare Invitational Action
6:30 PM EST
3-0 17. Notre Dame - 2-1 Monmouth (ESPNU)
Players to Watch:
Notre Dame:
Demetrius Jackson (JR)
---20.7 PPG, 4.0 RPG, 5.0 APG, & 1.0 SPG.
Monmouth:
Justin Robinson (JR)
---24.0 PPG, 3.3 APG, & 4.3 SPG.
9:00 PM EST
3-0 Iowa - 3-0 Dayton (ESPN2)
Players to Watch:
Iowa:
Jarrod Uthoff (SR)
---16.3 PPG, 5.7 RPG, & 2.0 SPG.
Dayton:
Charles Cooke (JR)
---15.3 PPG, 6.3 RPG, 2.0 APG, & 1.3 BPG.
Coverage of tonight's as well as all contests from the HP Field House in Lake Buena Vista, Florida, will be found on VAVEL US.