PARADISE ISLAND, Bahamas -- In the old Big East rivalry between Syracuse and UConn, we always enjoyed watching Orange head coach Jim Boeheim bark orders while Huskies head coach Jim Calhoun did the same. However, this matchup at Paradise Island in the Bahamas was unique in many different ways. Kevin Ollie is now the leader of the American Athletic Conference's favorite, and although Boeheim was on the sideline for Syracuse, we knew this may be the last time we see him face off against Connecticut. Also, both were coming off poor 2014-15 seasons and wanted to get back to prominence this year.
Both were undefeated coming in, but only Syracuse came out unscathed, knocking off the Huskies in a wild matchup 79-76.
5 players ended up in double figures for the Orange, but Michael Gbinije stole the show with 17 points on 7 for 12 shooting. The former Duke Blue Devil tallied 7 assists as well, but perhaps his most important contribution was the 6 steals he racked up. Connecticut was often in a disarray due to Gbinije's quickness. The Huskies also dealt with Trevor Cooney ploughing into the lane and ending up at the free throw line. Cooney ended up with 17 points as well. Malachi Richardson and Tyler Lydon combined for 5 for 8 from deep, plunging daggers into UConn's heart.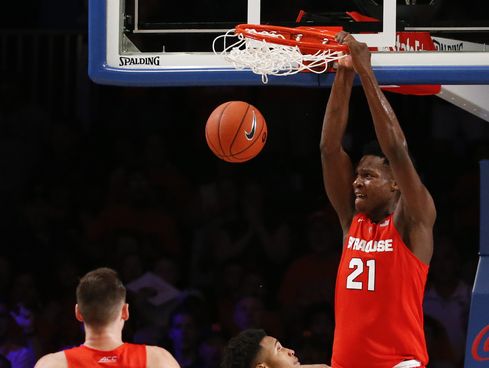 Daniel Hamilton was a catalyst for Connecticut, as he was on triple-double watch with 18 points, 12 rebounds, and 7 assists. He essentially played the entire game, keeping the Huskies focused. However, Sterling Gibbs and Rodney Purvis were poor from the field, shooting a combined 7 for 22 on the evening. Also, although no player fouled out, six Huskies ended with 4 fouls as the Orange lived at the line. Syracuse went 24-39 at the charity stripe, but that was enough to push themselves over the top.
UConn led for most of the first half, enjoying efficient early shooting from former Seton Hall Pirate Sterling Gibbs and Shonn Miller. The Huskies had a lot of effort during this half, making their way into the paint and scoring with relative ease. However, Syracuse regained their composure by going on a little run just before halftime to tie. Gbinije had a critical three-pointer with just over a minute and a half left before halftime that completed the Syracuse comeback.
A barrage of three pointers with about 13 minutes left in the 2nd half changed the pace of the game, as Syracuse utilized the open corner to drain rainbow shots from Lydon, Richardson, and Gbinije. Later, a thunderous dunk from Tyler Roberson let the small Imperial Arena understand that Syracuse was no pushover. The Orange used consistent and timely scoring from here on out to pull off the impressive victory.
This is a big sign for the Syracuse Orange, as many expected them to flounder during this season dealing with sanctions from the NCAA. Boeheim's bunch proved that they will be a forced to be reckoned with come ACC play. As for Connecticut, they will need to work on their on-ball defense for sure, as SU manhandled them today. UConn should bounce back from this quickly.
The 5-0 Cuse will take on Texas A&M in the title game of the Battle 4 Atlantis on Friday in what promises to be a terrific game. Connecticut gets another stern test against #10 Gonzaga in the 3rd place match.