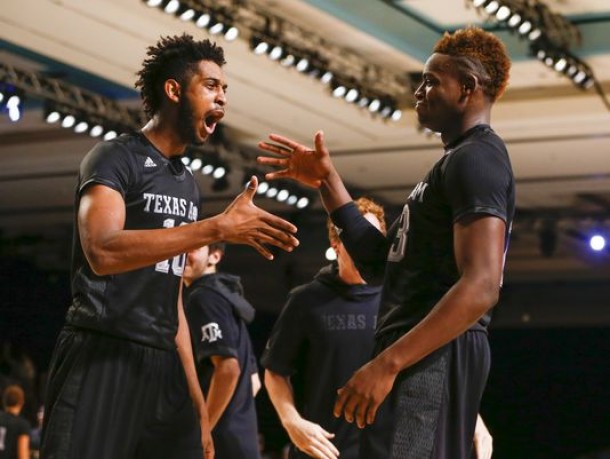 PARADISE ISLAND, Bahamas -- It was not No. 10 Gonzaga's day to feast in the paint on Thanksgiving Day 2015, as the Bulldogs (3-1) were held to 61 points and handed their first loss by No. 25 Texas A&M. The Aggies (6-0) held Domantas Sabonis to just two points in 18 minutes of action Thursday.
After an intense battle throughout the whole game, Danuel House hit a critical free throw to go up one on the Zags with 1:05 remaining. Josh Perkins committed a key turnover on Gonzaga's next possession with a bad pass, but the Bulldogs got the ball back with 16 seconds remaining, calling an immediate timeout after winning a scramble out of bounds on the defensive end of the court. Silas Melson failed to hit a fadeaway and the Aggies gobbled up the board to close out an extremely tight victory.
House led A&M with a game-high 19 points, shooting 6-9 and hitting two threes on the game. Tonny Trocha-Morelos went 4-4 from beyond the arc to finish with 14 points and a couple of blocks. Trocha-Morelos and fellow big man Tyler Davis led a huge effort to contain the Gonzagan big men to a bare minimum by the Bulldogs' standards.
Forward Kyle Wiltjer managed 18 points to headline Gonzaga's stat line, also grabbing a game-high seven boards, but committing four turnovers. Perkins added 15 - all in the second, along with five rebounds and four assists. Przemek Karnowski had 10 points and five boards as well.
"Our goal was to hold their big three guys to 30 points or less," said Texas A&M coach Billy Kennedy. And the Aggies held them to 30 on the dot, with just two coming from the Lithuanian Sabonis, who sat out a big portion of the final 20 after picking up his fourth foul at the 11:32 and fouling out with 2:39 left and the Zags up 60-57.
After leading much of the game, Gonzaga scored just one point in the final five minutes, a Karnowski free throw, and lost their lead to an A&M squad that scored 12 of its last 14 points from the charity stripe. The Aggies went 13-16 from the line, while the Bulldogs struggled, missing seven of their 11 attempts from the line.
"A stat that jumps out, and it's a shame -- we missed a ton of free throws there where we probably could have extended that lead," head coach Mark Few said.
Texas A&M has now earned their place in the Battle 4 Atlantis tournament final with this well-deserved win, and will face Syracuse in the championship game Friday. The Orange took down No. 18 UConn by a score of 79-76 Thursday. Gonzaga will face the Huskies in the third place game.
"The best thing about our team is we didn't panic. Emotionally I thought we were locked in the whole game," Kennedy stated proudly.
This Texas A&M team is for real. The Aggies have been phenomenal this season, and now sit at 6-0, certain to move up in the polls and expand their lead atop the SEC, which features two other undefeateds - No. 1 Kentucky and South Carolina.
[Quotes via ESPN]