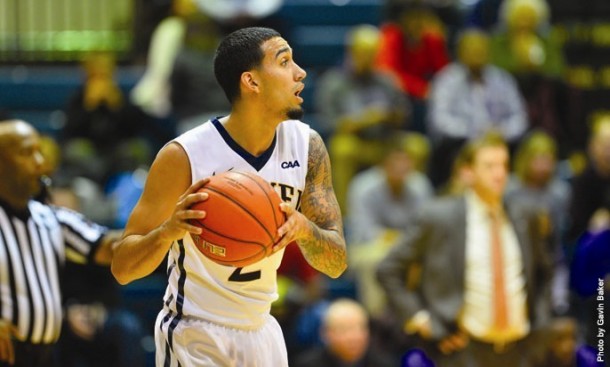 ANCHORAGE, Ak. -- A career-high of 19 points from freshman Terrell Allen was not enough to keep the Drexel Dragons (0-4) in the game against the UNC Asheville Bulldogs (2-3), as a potent second-half surge by UNC Asheville put this one out of Drexel's reach. UNC Asheville outscored Bruiser Flint's team 51-28 in the second to claim an 85-66 victory in both teams' Great Alaskan Shootout tournament opener.
Four Bulldogs reached double digits, as Sam Hughes led the way with 18 points and five rebounds. Dwayne Sutton had himself a near double-double, posting 14 points and nine boards, Ahmad Thomas also dropped 14 and hauled in six rebounds, and David Robertson racked up 13 points and four assists on the late game.
For Drexel, Allen and Sammy Mojica were the team's only routes to muster some scoring. Allen dished out six assists and grabbed four rebounds to go with his 19 points, and Mojica provided 16 points in 21 minutes before picking up his fifth foul at the 4:27 mark of the second half.
It was a slow start for Drexel and looked not good at all, as the Dragons quickly went down 12-0 just over five minutes in. UNC Asheville's Thomas scored three straight buckets at one point in the run. But Allen, Mojica, and Drexel clawed back, tying it up on a Mojica three-ball with 6:21 remaining in the first and stretching out the lead to 38-34 by half's end. Tyshawn Myles had six points on 3-3 shooting and six rebounds at the break.
The second half saw a similar start but its tale as a whole was a disappointing one for the Dragons, who went down 48-40 after Robertson and Hughes traded baskets for the Bulldogs. Drexel clawed back within six on multiple occasions, but a 10-0 run from UNC Asheville put the game in the bag, and the Bulldogs from there on would extend their lead to a largest 19, the final margin in this contest. UNC Asheville held a double-digit lead for the game's final 9:56.
Tavon Allen didn't show up for the Dragons, as he scored a mere four points and shot 1-9 in the backcourt.
A disappointing loss, Drexel must bounce back quickly as they face hosts Alaska Anchorage on Friday. While the Seawolves may be a Division II program, they've taken down a Division I opponent in 28 of the last 31 seasons and just barely fell to Middle Tennessee, 75-72, in the tournament's opening showdown.
UNC Asheville takes on that Middle Tennessee team Friday as well.