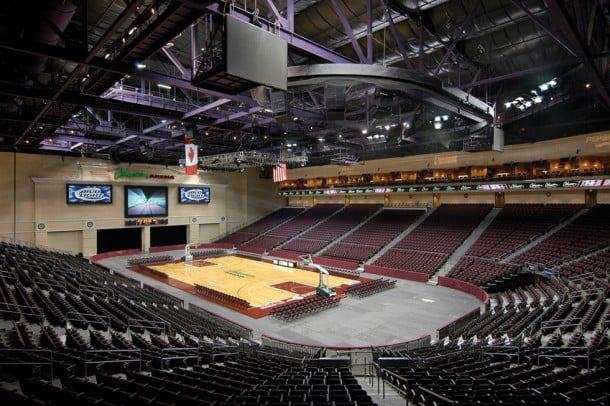 ​End of Game: West Virginia is your champion after a powerful showing. Thank you all for joining us! This has been Ben Anderson, reporting for VAVEL USA.
End of Game: West Virginia has won the Las Vegas Invitational!
​2nd Half, 10 Secs: Carter with a 3!
​2nd Half, 1:00: Devin Williams with his 10th point, pretty rainbow shot!
​2nd Half, 1:30: Offensive foul on Cheatham, who has had a rough 2nd half.
​2nd Half, 2:01: Putback for SDSU, nice score. Macon tries for dunk on other side, that failed. SDSU ball now.
​2nd Half, 2:45: Foul on Allen, Jevon Carter to the line. Drills first, misses 2nd.
​2nd Half, 3:35: SDSU with a nice little score. Just trying to make it look a little prettier at this point.
​2nd Half, 3:43: Exclamation point dunk by Jonathan Holten! Timeout!
​2nd Half, 4:11: Wow, pretty spin move then jump shot by Jevon Carter. Smooth.
​2nd Half, 5:01: 2 free throws for WVU down the drain. 20 point lead. That is, until a nice driving shot by Jeremy Hemsley, and the foul.
​2nd Half, 5:41: San Diego State's Shepard makes two free throws, but WVU runs in a layup on the other end. Cheatham then with a hook shot to get the lead down to 18.
​2nd Half, 5:47: Devin Williams misses two free throws, but a lane violation by Cheatham gives him another shot. Williams misses that one as well. Williams needs to work on his shot from the line in the future.
​2nd Half, 6:08: Frustrating for Cheatham, misses a layup. SDSU is 9 for 29 on the night.
​2nd Half, 6:36: Jonathan Holten hammers home Devin Williams' errant shot, but it was just after the shot clock hit zero.
​2nd Half, 7:07: Trey Kell makes 1 free throw after another Philip foul.
​2nd Half, 7:25: San Diego State then misses a dunk. A few boos from fans are now heard.
​2nd Half, 8:00: SDSU may be throwing in the towel. Young Ben Perez is now in the game.
​2nd Half, 8:09: Steve Fisher has seen enough. Timeout.
2​nd Half, 8:50: Finally the Aztecs break through the WVU pressure, nice ball movement for the score. But the celebrating is short-lived. A score by Jaysean Paige, then another turnover by SDSU. Philip scores immediately. It's now a bloodbath.
​2nd Half, 9:00: We've got a 19 point lead now for WVU as Miles Jr. makes some free throws.
​2nd Half, 9:13: Adrian misses from short, out of bounds of WVU. He has been a force tonight, though. Then a backcourt violation for SDSU!
​2nd Half, 10:05: Foul on Philip, Hemsley to the line. He is demoralized. Misses the first, but makes the 2nd.
​2nd Half, 10:43: Deep two by Miles Jr. for WVU, 18 point lead, their largest.
​2nd Half, 11:19: Offensive foul by Cheatham, although it looked like a blocking foul on WVU's Macon.
​2nd Half, 11:41: We are already nearing the halfway mark of the 2nd half, and things look bad for the Aztecs right now. Bob Huggins' Mountaineers are dominating in every facet in this half, on the boards, in the paint, and in toughness.
​2nd Half, 12:02: Horrific defensive rebounding by SDSU tonight.
​2nd Half, 12:59: Block by Ahmad on Cheatham! Swatted that one back, WVU. Miles Jr. misses three, but he gets his own rebound. With the spin move gets the bucket!
​2nd Half, 13:20: 5th team foul on WVU, Paige reached in on Kell.
​2nd Half, 14:03: 5th team foul on SDSU, silly foul on Allen. WVU turns it over, then a missed shot by SDSU on the other end. Aztecs have a cap on their basket.
​2nd Half, 14:20: Devin Williams is alive and well! Flips it in with a backwards layup, and a foul is called on Spencer. Williams misses it, but the ball goes off SDSU.
​2nd Half, 15:07: Spencer, foul on him as he checks back in. Carter than misses a wide open dunk. On the othe end, Shepard FINALLY gets a field goal. Down to a 12 point lead. SDSU fans are chanting.
​2nd Half, 15:28: Pope converts two from the line.
​2nd Half, 15:40: Foul on the other end. As we watch things get out of hand, we see that Winston Shepard is nowhere to be found on the Aztec offense. The senior has had a truly horrific night. Also, it seems that Trey Kell is getting the ball often. He's scored once, but he lacks the explosiveness that we usually see from Shepard. Finally, Jeremy Hemsley is being used conservatively as he is up to 3 fouls.
​2nd Half, 15:47: San Diego State misses golden opportunity for rebound, but Williams soars in and gets his 3rd layup of the night.
​2nd Half, 16:12: Devin Williams heating up, another field goal!
​2nd Half, 16:23: Jevon Carter gets trapped, WVU calls a timeout. Whew! Frantic action.
​2nd Half, 17:17: Kell's first field goal on one end, then Devin Williams' first on the other.
​2nd Half, 17:50: SDSU bumbles, 16th turnover. Carter with the jumper, GOOD! 40-28 WVU, San Diego State has let this get out of hand. They don't have confidence at all.
​2nd Half, 18:06: Turnover by SDSU, of course. Cheatham tries to block on the other end, but ended up with a foul. Holten converts from the charity stripe. A big man that can shoot free throws!
​2nd Half, 18:32: Missed 3 for Carter, out of bounds off SDSU. Foul off the ball on Devin Williams, overly aggressive by the big man. SDSU ball.
​2nd Half, 18:51: Hemsley's 3rd foul, first foul of the half.
​2nd Half, 19:21: Finally some action for WVU's talented freshman Esa Ahmad, he scores a layup. Cheatham scores on an impressive spin move on the other end.
​2nd Half, 19:50: SDSU gets the ball first, missed shot, leaping rebound for Devin Williams.
​Halftime: Game starting back very soon, so grab some popcorn and get ready for a fun 2nd half!
​Halftime: San Diego State showed flashes of brilliance, as freshman all-star Jeremy Hemsley scored on some sick layups. His moxy has kept the Aztecs in the game. Only two other players have made field goals other than Hemsley, one for Dakarai Allen and one for Zylan Cheatham. San Diego State has scored mostly from the free throw line. However, we should not forget the brilliant comeback that SDSU had against California yesterday. Steve Fisher will divvy things up a little on offense undoubtedly, trying to get Winston Shepard more open looks, along with Skylar Spencer. It will have to become more than the Hemsley show for SDSU to win.
​Halftime: Devin Williams, the star big man for West Virginia, has looked very poor tonight compared to his great performance against Richmond last night. The defense for SDSU down low is strong, as Skylar Spencer has attained a whopping 6 blocks. His presence has daunted Williams. But, WVU had not needed him very much, as Jonathan Holten has performed admirably down low. Also, more importantly, the Mountaineers have been hot from outside. Jevon Carter and Jaysean Paige (who leads the team with 8 points so far) have lit Orleans Arena on fire. Then, late in the half, Daxter Miles Jr. put the place into an explosion with a monster putback dunk. All in all, despite the many fouls committed by WVU, it was a successful first half by the Mountaineers.
​Halftime: Stat of the night so far - 14 turnovers for San Diego State. Like it or not, the frenetic West Virginia defense is working. It's such an all-in approach, and although they may give up some occasionally easy shots when the press doesn't work, it's giving more blessings than curses. The Aztecs have committed enough turnovers tonight to keep the Arby's fast food chain in business for years to come.
​Halftime: Macon with the monster block! First half ends, 34-26 West Virginia. Halfway through the Las Vegas Invitational Final.
1st Half, 25 Secs: WVU makes 1-2 at the line. SDSU holds for final possession.
​1st Half, 46 Secs: Devin Williams with another turnover, his head is out of this game. Surprisingly, the Mountaineers are surviving quite well without his contributions. Then a Cheatham turnover on the other end.
​1st Half, 1:05: Hemsley tripped up, he jumps to the free throw line. The freshman phenom makes both.
​1st Half, 1:13: Teams now trading misses from deep
​1st Half, 2:13: Press Virginia is working.
​1st Half, 2:36: Shot clock violation by WVU, nice defense by the Aztecs. But West Virginia gets a turnover off the inbound from SDSU, then a layup by Miles Jr.!
​1st Half, 3:00: Storylines - Skylar Spencer for San Diego State has 6 blocks, while Devin Williams is being held completely scoreless.
​1st Half, 3:00: Hemsley, brilliant little hook. The teams are trading buckets right now, but we're heading for a timeout. 31-24 West Virginia.
​1st Half, 3:44: HOLY COW, Daxter Miles with the JAM on the rebound! That electrified the arena!
​1st Half, 4:13: Back and forth we go after SDSU converted both. West Virginia slows things down.
​1st Half, 4:30: Shepard misses an easy shot down low, West Virginia rebounds and sets up. Three missed on other end, then a foul on Nathan Adrian. Aztecs zip back to the line.
​1st Half, 5:08: Foul fest in Orleans Arena, WVU's Tarik Philip nails two. Messy, but effective b-ball for the Mountaineers.
​1st Half, 5:09: Holten hammers Malik Pope, who was gearing up for a shot. Misses 1st, makes 2nd.
​1st Half, 5:42: San Diego State in double bonus, Dakarai Allen makes 2.
​1st half, 6:18: WVU fouled, makes both from the line. But Hemsley bursts to the basket on the other side, makes it. However, Holten gets the two back with a quick hook shot. Back to 10 point West Virginia lead.
​1st Half, 6:40: A huge WVU turnover, SDSU with numbers and scores easily. 23-15.
​1st Half, 7:09: WVU in the bonus. Daxter Miles Jr. converts neither. Can't miss those.
​1st Half, 7:17: San Diego State is missing a lot from trey, Allen hits iron.
​1st Half, 8:01: San Diego State isn't too far behind WVU in fouls. Hemsley with a foul, their 6th. But then a huge block by Spencer. TV Timeout then is called.
​1st Half, 8:14: Another WVU foul, Kell to the FT line again. Converts 1.
​1st Half, 8:25: Jonathan Holten, nice offensive rebound, and then scores. Then SDSU commits their 9th turnover, commits a foul. Jevon Carter makes both. San Diego State is horrible when inbounding the ball.
​1st Half, 9:00: Another WVU foul, Trey Kell makes both. This is hurting WVU, but it is their style. 19-12 WVU.
​1st Half, 9:14: Both FT's converted. Brick of a jumper on the other end for WVU. Mountaineers need to put some oil on their cogs again.
​1st Half, 9:28: Nice block for Skylar Spencer, he's dominating down low when he has the time to. SDSU has this back to their pace. Foul on the other end, SDSU is in the bonus.
​1st Half, 9:49: Cheatham stops the bleeding with the little hook. 19-8 WVU.
​1st Half, 10:46: Another turnover, Adrien converts the layup! Then another SDSU turnover, it's a mess out here for the Aztecs. No cohesiveness.
​1st Half, 11:03: Boom, another jumper, this one from Jevon Carter. This is what WVU missed the other night against Richmond, this quality ball movement and powerful on-ball defense. San Diego State all out of sorts.
​1st Half, 11:34: Nice ball movement for the Mountaineers, Nathan Adrien scores the 3. 11-0 run for WVU.
​1st Half, 12:00: Foul on D'Erryl Williams for San Diego State. A timeout, good time for the Aztecs to cool their heads a little and realize they're only down 6.
​1st Half, 12:17: Paige to the rim, SCORES. SDSU sloppy right now! Then an offensive foul for the Aztecs. Steve Fisher must get this team to calm down.
​1st Half, 13:04: Over the back foul on SDSU's Spencer. SDSU needs to stop the bleeding.
​1st Half, 13:25: Missed 3 by Pope. Then on the other end, Jaysean Paige AGAIN, for 3. Massive that he gets hot.
​1st Half, 14:41: Series of missed shots on both ends, but Jaysean Paige breaks the cold streaks by nailing a 3. 7-6 WVU.
​1st Half, 15:17: West Virginia ​keeping up on their pressure. SDSU gets it past midcourt, and a wild shot by Shepard does not go. WVU retains.
1st Half, 15:26: Shot clock violation confirmed, SDSU ball.
​1st Half, 15:26: Should have been a shot clock violation for WVU, but the refs called a foul. Can't tell if the foul happened before the clock struck zero.
​1st Half, 15:57: Hemsley makes both from the line. SDSU leads 6-4.
​1st Half, 16:00: West Virginia ​once again racking up the fouls. SDSU has not taken advantage, as they have already missed two from the stripe. Looks like our prediction of a low scoring game may come true.
​1st Half, 16:00: SDSU is 1-2 at the line. Spencer blocks a WVU shot on the other end, big play from the big man.
1st Half, 16:27: It's ugly so far. Turnover, off of Williams' finger. Then a foul on Tarik Philip in the backcourt, then another foul on Elijah Macon. WVU is up to 4 fouls already.
​1st Half, 17:00: A little sloppy for Williams, another turnover. Pope misses a 3 for SDSU, WVU brings it up.
​1st Half, 17:45: Daxter Miles with the scoop, GOOD! 4-3 Eers. Then a turnover on the other end for the Aztecs.
​1st Half, 18:29: Allen with the jumper, good! 3-0 WVU. Then Holten on the other side for West Virginia gets them on the board, 3-2. Then the press for WVU makes SDSU commit a turnover.
​1st Half, 18:40: SDSU's Cheatham poked in the eye, WVU turns it over. During the WVU press, the Mountaineers committed their 2nd foul already.
​1st Half, 19:16: After a poor WVU possession, Hemsley heads to the line on the other side. He makes the first, misses the 2nd.
1st Half, 19:50: We are off! SDSU win the tip. Shot hits the rim, WVU ball.
The arena is getting fired up. Good crowd has showed up, seemingly pro-SDSU. Some WVU fans there as well.
​West Virginia - San Diego State will officially tip off at 10:45 PM ET.
Current Line for our matchup that starts in about 15-20 minutes: WVU -2.5 . O/U: 137.5
And the Spiders prevail! Big win for the Spiders, and this certainly makes WVU look a bit more formidable coming to their game here in a bit.
Richmond was shook up by a smart defensive switch by California, and even gave up the lead for a while. But, the Spiders are back in the lead after a big three by Jones. 1 minute left in the game.
An interesting update: Richmond is currently taking it to California in the 3rd Place game, as the Spiders lead by 10 with 12 minutes left. This is a good sign for West Virginia, as it proves that the Spiders that WVU took on last night are no pushover. Maybe San Diego State's victory over California wasn't as impressive as initially thought?
We will have more updates very soon, and will give play-by-play and commentary during the game. Stay tuned throughout for this exciting matchup.
The Aztecs will likely have a few more fans in tow in Las Vegas, but the tournament has not attracted huge crowds so far. It will be interesting to see how many show up for the championship game. The Mountaineers do not have a history against the Aztecs.
San Diego State is loaded with talent, but their array of youth will result in occasional inconsistencies. Their loss to Arkansas-Little Rock is still a head-scratcher in which the Aztecs only scored 43 points. They looked dead in the water in that game, but a few starting-five shakeups have rejuvenated the team. It is imperative that the team gets Winston Shepard and Skylar Spencer going early. Also, SDSU needs to be careful with the basketball, yet confident. West Virginia's pressing defense can frustrate anybody, so the Aztecs must keep a cool head and just play.
Richmond was a decent test for the Mountaineers, but the test they will face against San Diego State is stern. West Virginia has been learning how to deal with life without Juwan Staten, their backcourt leader they enjoyed for 4 quality seasons until this past offseason. The future is there in Jevon Carter and Daxter Miles Jr., but they are exceptionally streaky right now. Bob Huggins was infuriated by the lackadaisical performance of his guards. Tonight, it's time for at least one of them to step up and be a leader.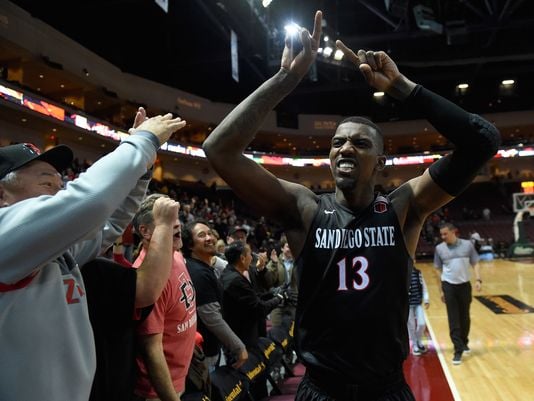 Getty Images
The SDSU Aztecs bring much more to the table than Winston Shepard. One of the most surprising players this year so far has been freshman Jeremy Hemsley. The lean guard shows swagger, driving through the lanes right to the rim with authority. He also has a pretty outside shot that will be important tonight. Lanky guard Dakarai Allen helps Hemsley out, along with sophomore Trey Kell. Probably the most critical factor for the Aztecs is their frontcourt, including freshman Zylan Cheatham and 6'10" senior Skylar Spencer. Spencer in particular is intriguing, for he can score layups in bunches. All-in-all, the options are numerous for Steve Fisher's squad.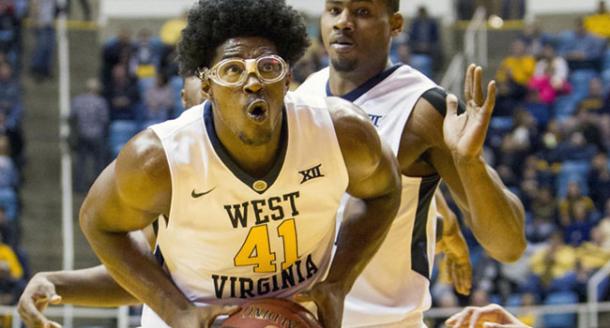 USA Today Sports
WVU's Devin Williams gets help down low from veteran big man Jonathan Holten, who helped keep WVU afloat vs. Richmond last night. In the backcourt, Daxter Miles Jr. and Jevon Carter lead the show, but they have had a mediocre start to the year. They will need to get open for 3's tonight against the wall that is SDSU defense. Guard Jaysean Paige comes off the bench to give his team a boost often, while the passionate Elijah Macon does the same, only down low. A key contributor to watch may be Esa Ahmad, a freshman forward that has shown some moxy in the paint so far this season. He gets to the line often, and will be used a lot against San Diego State.
San Diego State completed an enormous second-half comeback last night against the #14 California Golden Bears after being down double-digits. Steve Fisher orchestrated the run by feeding energetic senior forward Winston Shepard, who co-led the scoring with 15. He scored all of his points in the 2nd half, and he simultaneously played marvelous defense. California's electric young offense went on a massive slump that SDSU slowly but surely took advantage of. Shepard, a native of Houston, Texas, has been a key cog in the Aztec offense, and was last night. He will be going toe-to-toe with WVU's Devin Williams tonight, a matchup that will critical to watch.
West Virginia defeated Richmond last night to get to this point, but if it wasn't for powerful big man Devin Williams keeping his team ahead, it could have went the other way easily. Richmond was right in the game, giving the Mountaineer guards fits. But Williams kept on plowing, scoring 23 on the night while grabbing 12 rebounds. He is the Mountaineers' go-to threat, a beast in the paint. Williams can easily be picked out from a crowd due to the enormous goggles he sports.
This is an interesting matchup between two defensive powerhouses. West Virginia is called Press Virginia for a reason, as head coach Bob Huggins uses a system that caused more turnovers last year than any other team in the nation. San Diego State, pioneered by long-time head coach Steve Fisher, has tremendous defense as well, and is in the top 20 in the nation in points allowed. This could very well be a slow-paced, messy game as these two defenses clash.
Hello everyone, and welcome to VAVEL USA's live coverage of 2015 College Basketball. Today, we have a late night slugfest upcoming between the West Virginia Mountaineers and the San Diego State Aztecs. This is the final for the Las Vegas Invitational, a tournament that has been held since 2003. The tournament is sponsored by Continental Tire, and has been since last year. 2006 was the first year it was held in the Orleans Arena, which is connected to the Orleans Resort. Due to being there, the tournament was the site of the first NCAA-sanctioned tournament held in a venue connected to a casino with a sports book.