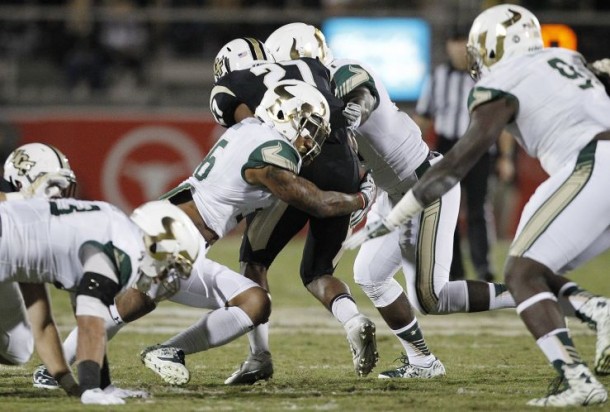 The 2015 regular season came to a close for the USF Bulls and the UCF Knights on Thanksgiving night. USF had conference championship hopes on the line while UCF was still looking for their first win of the season.
UCF started off on the right foot by kicking a 28 yard field goal, courtesy of Matthew Wright, to give the nights a 3-0 lead early. USF got right back on the scoreboard with a four yard touchdown pass from quarterback Quinton Flowers to wideout Chris Barr, putting the Bulls up 7-3.
In the second quarter, Flowers lead another Bulls touchdown drive, capped off by a one yard touchdown pass to Sean Price, to extend their lead to 14-3. With under five minutes left in the half, Flowers kept the snap and ran the ball in from three yards out for another touchdown to make it 21-3. As time was expiring in the half, USF kicker Emilio Nadelman converted on a 44 yard field goal and went up 24-3 going into the half.
USF continued their dominance into the second half with a five yard touchdown run from Flowers, putting them up 31-3 as they continued to pad their stats. Flowers continued his stellar performance with a 26 yard touchdown pass to Price and were up 38-3 as the quarter drew to a close.
The final quarter of play saw less offense from USF, along with no offense from UCF, as each's respective regular seasons were drawing to a close. Nadelman hit 41 yarder early in the quarter, along with a 43 yarder with less than five minutes to go in the game. USF went on to win 44-3 as UCF struggled to get on the board after their first drive.
Quinton Flowers had a day to remember, throwing for 176 yards, rushing for 87 yards, threw for three touchdowns, and ran for two touchdowns as he controlled the Bulls' offensive game.
USF finished the regular season with an 8-4 record, going 6-2 in conference play. The Bulls now have to wait until Saturday to see if they will play in the American Athletic Conference Championship Game, as a Temple win eliminates them from the championship game. If Temple loses, however, they would win the tiebreaker following their upset victory over them just two weeks ago.
UCF's season is finally over as they finished the season winless, causing dismay amongst fans. They lost all twelve games they played in, with two losses decided just by one point. The Knights still have next year to look forward to, as they would like to put their season behind them.