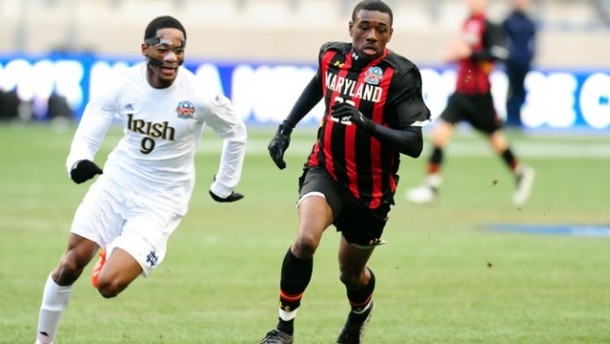 Having already previewed 8 of the 16 teams remaining in the NCAA Soccer Tournament, we'll now preview the final eight teams.
5. North Carolina 15-1-3
Road to the Tournament: UNC's regular season was an excellent one that saw them lose just one game - to the #1 Wake Forest Demon Deacons - and also saw them collect big wins over #7 Notre Dame and #6 Syracuse. They did bow out in the ACC quarterfinals but took the eventual tournament champs, Syracuse, to penalty kicks.
In the Tournament: The Tar Heels held off Coastal Carolina 2-1. UNC scored the first two goals and then survived a comeback attempt by Coastal in the victory.
Players to Watch: Tucker Hume leads the team, and the ACC, with 11 goals while Zach Wright is tied for the team lead with five assists. James Pyle (.839 save percentage and 0.67 GAA) started most of the season in goal for the Tar Heels but was injured in their victory over Coastal. Backup Sam Fuller (.688 save percentage and 0.81 GAA) may be forced into action.
12. Creighton 18-3
Road to the Tournament: Creighton lacked a really big win during their season but they did collect victories over U.C. Irvine, Tulsa, and Drake. They lost to #3 Georgetown in the Big East Final.
In the Tournament: Creighton dominated in their lone tournament game so far, dispatching of Drake again, this time by a score of 5-1. The Bluejays held a 25-5 edge in shots.
Players to Watch: Fabian Herbers is far and away Creighton's biggest threat, having recorded a whopping 15 goals, to go along with 15 assists on the season. Timo Pitter has chipped in with nine goals and four assists. Goalie Connor Sparrow has recorded a .733 save percentage but only a 0.76 GAA thanks to a strong defense in front of him.
UNC-Creighton prediction: Creighton 3-1
Creighton has a stronger offense than UNC and, if Pyle can't start for the Tar Heels, the Blue Jays also have a better goalie. If Pyle starts, it might be a different story, but without Pyle, UNC is a different team. Creighton surprises the Tar Heels to advance to the quarterfinals.
6. Syracuse 14-5-3
Road to the Tournament: The Orange were less than impressive in the regular season but turned their play up a couple of notches with consecutive victories over #5 UNC, #2 Clemson, and #7 Notre Dame in the ACC Tournament to win the ACC title. Their strong tournament earned them a #6 seed in the NCAA tournament.
In the Tournament: Syracuse edged Dartmouth 2-1, playing it close with the Ivy League School before cinching the victory that clinched a Sweet 16 berth.
Players to Watch: Ben Polk leads the Orange into action with 11 goals and four assists. Julian Buescher recorded eight goals of his own as well as a team-leading 10 assists. Hendrik Hilpert (.684 save percentage and 0.89 GAA) and Austin Aviza (.710 save percentage and 0.97 GAA) have split time for the Orange in net, with Hilpert playing a little more often.
11. Seattle 18-3
Road to the Tournament: Seattle played a fairly weak schedule but did collect wins over Dartmouth and Utah Valley. They beat Utah Valley a second time in the Western Athletic Conference Championship to win the WAC title.
In the Tournament: Seattle toppled last year's national runners-up, taking down the UCLA Bruins 1-0. They were outshot 15-12 but notched a first half goal to notch the win.
Players to Watch: David Olsen and Hamza Haddadi both recorded at least 10 goals. Olsen scored 15 times while Haddadi was credited with 10. Shane Hadworth has been solid in net with a 0.68 GAA and a .800 save percentage.
Syracuse-Seattle prediction: Seattle 3-1
Seattle has a strong offense and Syracuse is weak defensively. Seattle is strong enough defensively to hold off Syracuse's offensive threats for the most part and should be able to collect the upset victory here, assuming they don't suffer from the long plane ride.
7. Notre Dame 11-4-6
Road to the Tournament: Notre Dame had a strong regular season and had a big regular season victory over now #2 Clemson, topping the Tigers 1-0. They also toppled #1 Wake Forest in the ACC semifinals before falling to Syracuse in the championship.
In the Tournament: The Irish survived Tulsa's upset bid in the Round of 32, Notre Dame's only tournament game thus far, dispatching them in penalty kicks after a 1-1 tie in regulation.
Players to Watch: Jon Gallagher leads the Irish with nine goals while Evan Panken has a team-leading eight assists for Notre Dame. In net, Chris Hubbard has been strong, with a .785 save percentage and a 0.76 GAA and eight shutouts.
10. Maryland 11-5-5
Road to the Tournament: Maryland's regular season didn't blow anyone away - they lost five times and their biggest wins were over UCLA and Rutgers. However, their strong Big 10 tournament play led to a high seeding for the Terrapins. Maryland toppled Indiana and Ohio State to win the Big 10 Championship.
In the Tournament: Maryland ended Virginia's attempt at a repeat national title, edging the defending champions in a 1-0 defensive duel in the Round of 32.
Players to Watch: Sebastian Elney leads the team with seven goals while Mael Corbez has dished out 10 assists. In goal, Cody Niedermeier has put up solid number - a .775 save percentage and 0.79 GAA.
Notre Dame-Maryland prediction: Notre Dame 1-0
Notre Dame is not stronger offensively than many teams but Maryland is particularly weak offensively. They lack a big goal scorer and their defense isn't quite good enough to make up for it. Notre Dame holds an edge on both offense and defense but, because Notre Dame doesn't score much, the game should remain 1-0, or a score that is similar.
8. Stanford 15-2-2
Road to the Tournament: The Cardinal beat a then-ranked Oregon State squad twice in the regular season which accounted for their biggest wins. Their 7-1-2 Pac-12 record was good enough to win the conference title - since the conference did not actually have a tournament.
In the Tournament: The Cardinal cruised past Santa Clara 3-1 in the Round of 32 to advance to the Sweet 16. Santa Clara never challenged Stanford in the one-sided match.
Players to Watch: Jordan Morris leads the Cardinal with his eight goals while Eric Verso has dished out a whopping 11 assists. Andrew Epstein has done well in goal for Stanford, putting up a .780 save percentage and a 0.67 GAA.
9. Ohio State 13-6-3
Road to the Tournament: Ohio State opened the season with an upset win over Notre Dame, the same team that eliminated the Buckeyes last year. They went on to add conference victories against Indiana and Maryland. They then beat Indiana a second time in the Big 10 semifinals before falling in the championship.
In the Tournament: Ohio State squeaked past Dayton, whom took the Buckeyes to penalty kicks. Ohio State converted four of their five penalty kicks while Dayton made just three. The Buckeyes advanced on the narrow 1-1 (4-3) victory.
Players to Watch: Danny Jensen and Kyle Culbertson both have scored six goals to lead a weak offensive attack for Ohio State. Chris Froschauer anchors the defense for the Buckeyes, having posted an .814 save percentage and 0.78 GAA.
Stanford-Ohio State prediction: Stanford 1-0
Neither team is strong offensively but Stanford is just slightly stronger. Both teams boast a strong defense so it should be a low-scoring match, slightly in favor of the Cardinal.