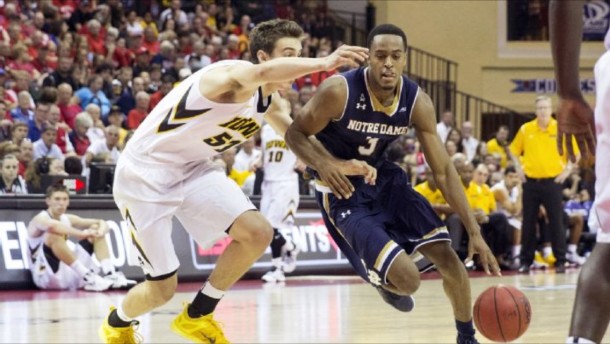 LAKE BUENA VISTA, FLORIDA---This year there shall be no tie in the ACC/Big Ten Challenge!
Thanks to opening night losses at this season's Advocare Invitational, the ACC and Big Ten had an unofficial game tonight as a part of their original 14 contest schedule.
Like Thursday evening, the Notre Dame Fighting Irish allowed the opposition, in this case the Iowa Hawkeyes, to throw the first punch. Also identical to last night, Mike Brey's group bounced back and took the lead before the ten minute mark in the first half (14-13 ND).
Upon seizing their first winning margin, the Fighting Irish built it up to seven with two three-pointers from V.J. Beachem and four points from "jazzy junior" Demetrius Jackson. Later, sharpshooter "Matty Ice" Ryan "tickled the twine" twice while Steve Vasturia and Matt Farrell combined for five to widen the gap to a game-high 19.
Fortunately for Iowa head coach Fran McCaffery, star Jarrod Uthoff finally found the bottom of the net on a consistent basis with a trey and deuce to close the half at the score of 39-27 in favor of Notre Dame.
For the first four of the second twenty minutes, the Hawkeyes' deficit only decreased by two points. Unexpectedly six minutes later, the lead was theirs (47-46). How? Adam Woodbury was actually on the court! The 7'1" senior, who picked up two early fouls, was the driving force of Iowa's run, for he posted six points and two rebounds as a part of their 16-0 run. Yes, a 16-0 run! Eventually, Notre Dame's Jackson would break the seal on the basket, but the damage was done and we had ourselves a barn burner inside the HP Field House.
Back and forth the two talented squads went as from the ten to four-minute mark the highest lead either team had was five by the Fighting Irish. Who would come out with a consolation championship date with Alabama? Notre Dame!
Thanks to Steve Vasturia finally making a three-pointer (it was his first make out of seven attempts) and Bonzie Colon supplying six of his eleven points, the Fighting Irish was able to keep at least a two possession advantage for the final 3:28 resulting in their fourth victory of the season.
Seniors Supplying
Following a game in which they combined for 31 points on 9 for 21 shooting, Mike Gesell and Adam Woodbury finally joined Jarrod Uthoff in the scoring department by contributing 14 apiece to the leading scorer's 20. Sunday, Iowa will be a part of an all-yellow 7th place game, for they take on the Wichita State Shockers.
Improvements Seen
On Thursday, Monmouth pulled off the upset of the tournament (and school history) by stealing a two-point win over Notre Dame. A big reason the Hawks were able to hang around with the Fighting Irish was turnovers and free throws as Brey's team allowed 14 in comparison to Monmouth's 6 while missing 9 of their 17 charity stripe attempts. This evening, Notre Dame much improved in both! Winning by six, they made 10 of their 15 free throw attempts in addition to decreasing their turnovers by six in contrast to Thanksgiving night! The Fighting Irish will take on the Alabama Crimson Tide in Sunday's finale (7:00 PM EST on ESPNU).
Friday's Remaining Advocare Invitational Action
9:30 PM EST
3-1 Monmouth - 4-0 Dayton (ESPN2)
***Semi-Final
Coming In:
Monmouth: 70-68 Win - 17. Notre Dame
Dayton: 82-77 Win - Iowa
Coverage of tonight's finale and Sunday's games from the HP Field House in Lake Buena Vista, Florida, can and will be found on VAVEL US.