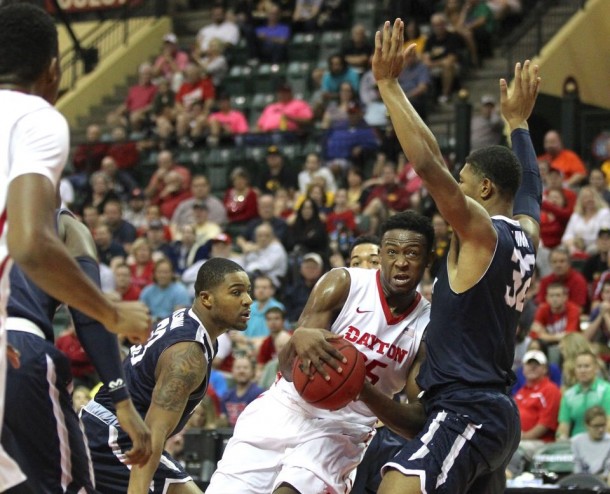 LAKE BUENA VISTA, FLORIDA---Animated from the beginning, Monmouth's bench tried to make the second semi-final of the 2015 Advocare Invitational a home game. Too bad it wasn't possible since the "Red Scare" was literally imported to the HP Field House from Dayton, Ohio.
After defeating their first AP ranked opponent in school history, the Monmouth Hawks were seeking a second opportunity with a win tonight versus Dayton. Yet, after 5 minutes and 15 seconds of play, the possibility of the following looked bleak.
Starting the game as they did on Thursday, the Flyers flew ahead to a quick 12-4 lead after Schoochie Smith nailed back-to-back triples.
"Here we go! The fall of Monmouth!"
Not yet! With four of his ten points in 30 seconds, Chris Brady started a Hawks' comeback by dwindling the deficit in half (12-8 UD). Although Dayton would re-up their winning margin to 9 thanks to a three pointer from "fab freshman" Ryan Mikesell (23-14 UD), Monmouth continued to hang around by keeping it at least a three possession game until the scoreboard reached triple zeros for the first time.
Exiting the halftime locker room with a 37-32 lead, the Flyers began another run, this time a 10-0 spurt, to increase the distance between them and the Hawks to 15!
"Okay, so now Monmouth is toast?"
Quit asking that! The Hawks aren't going anywhere!
Through the effort and three-point shooting of "jazzy junior" Justin Robinson, Monmouth drew within eight with seven minutes remaining in the contest. Later, they would make it a one possession game as Collin Stewart got in on the act with a trey of his own to silence the Flyers' faithful. We had ourselves a ball game with 4:52 left!
After the two squads traded a pair of free throws and jumpers, Micah Seaborn dropped a pass down to Brady for an "and-one" layup at the front of the rim. Monmouth would have a chance to tie the game! Clank! 68-67 Dayton.
On the ensuing Flyers' possession the dangerous Schoochie Smith found himself with a fairly open look from beyond the arc. Nothing but nylon!
Following a missed layup by Seaborn with 1:19 left, Dayton's Kendall Pollard added a layup to give Archie Miller's team a six-point lead with 59 seconds remaining. "Timeout Monmouth!" The game seemed to be in hand, but to everyone's surprise it wasn't.
Bringing up the ball with a sense of purpose, Robinson passed it to teammate Deon Jones who found Stewart for a three-point attempt. Boom! Three-point game!
Succeeding a jumper that back rimmed from Smith, King Rice's team pushed the ball up court and set up their offense with the clock at 12 seconds. Facilitating the ball around the perimeter in the hunt for a triple, the ball found itself in the hands of superstar Justin Robinson. He pump faked his defender and had less than a moment before another Flyer pursued him. Being the unselfish player he is, the 5'8" guard passed the ball to Micah Seaborn instead of forcing a shot. However, Seaborn was just as covered as Robinson when he fired the game-tying attempt. The ball soared through the air, hit the rim, and caromed away from the cylinder. The Dayton Flyers had survived.
Stirring it Up
With a drive and made basket at the 6:38 mark, Monmouth star Justin Robinson "stirred the pot" for a Hawks' win. The 2014-2015 All-MAAC First Team selection single-handedly kept his team in the game, for he bucketed 28 points on 5 for 7 shooting from beyond the arc. Also, he was able to get to the charity stripe and take advantage of free points by making 14 of his 15 attempts. Robinson's Monmouth squad will attempt to avenge their first loss of season, Sunday afternoon in a rematch with the USC Trojans.
Only In Orlando
Xavier versus Dayton is back! The Blackburn/McCafferty Trophy shall be awarded again! A rivalry beginning in 1920, the Xavier Musketeers and Dayton Flyers have not faced-off since 2013 for the prior switched conferences while the latter stayed in the Atlantic 10. Though that will change this Sunday at "The Most Magical Place on Earth" as the two Ohio teams will take the floor in the 2015 Advocare Invitational Championship.
Sunday's Advocare Invitational Action Schedule
10:00 AM EST
2-3 20. Wichita State - 3-2 Iowa (ESPN3)
***7th Place Game
How They Have Faired In Orlando:
Wichita State:
72-69 Loss - USC
64-60 Loss - Alabama
Iowa:
82-77 Loss - Dayton
68-62 Loss - Notre Dame
12:30 PM EST
5-1 USC - 3-2 Monmouth (ESPN2)
***3rd Place Game
How They Have Faired In Orlando:
USC:
71-69 Win - 20. Wichita State
87-77 Loss - 23. Xavier
Monmouth:
70-68 Win - 17. Notre Dame
73-70 Loss - Dayton
4:30 PM EST
6-0 23. Xavier - 5-0 Dayton (ESPN2)
***2015 Advocare Invitational Championship Game
How They Have Faired In Orlando:
Xavier:
64-45 Win - Alabama
87-77 Win - USC
Dayton:
82-77 Win - Iowa
73-70 Win - Monmouth
7:00 PM EST
3-2 Alabama - 4-1 17. Notre Dame (ESPNU)
***2015 Advocare Invitational Consolation Championship
How They Have Faired In Orlando:
Alabama:
64-45 Loss - 23. Xavier
64-60 Win - 20. Wichita State
Notre Dame:
70-68 Loss - Monmouth
68-62 Win - Iowa
Coverage of Sunday's games from the HP Field House in Lake Buena Vista, Florida, can and will be found on VAVEL US.