 All the news coming out of Baton Rouge says that Les Miles is likely coaching his last game on Saturday against Texas A&M.
He supposedly met with the school's athletics department early in the week, where he and LSU "agreed to part ways" after the season, according to Pat Forde of Yahoo! Sports. And after multiple reports throughout the week, it was announced that Miles had indicated that the A&M game might be his last, which was followed by a report by ESPN.com's Joe Schad that LSU is "heavily in favor" of making a change.
Unbelievable. Incredible. Ridiculous.
Those are the first three words that come to mind regarding this topic. Miles has been a phenomenal coach in his 11 years at the helm of the LSU program, amassing a terrific 110-32 record and leading the Tigers to two National Championship games - including winning the title in 2007.
And he's getting heavy pressure from boosters because he has lost three games in a row? Those same boosters have boasted that they will have no trouble raising the funds necessary to fulfill Miles' enormous $15 million buyout, which truly is a testament to their displeasure.
Yet their unhappiness seems totally unwarranted at this point.
If you take Miles' record from the past five years, he has the exact same number of wins that Nick Saban did during his five-year stint at LSU. A win over the Aggies would give Miles a one-game advantage, which is nothing to sneeze at considering how highly-regarded Saban is within the football community.
Miles has translated that winning into recruiting, and he is considered as one of the greatest recruiters in the country. Since 2013, LSU hasn't had a recruiting class ranked lower than sixth in the country, according to 247Sports.com. Their current haul trails only Ohio State for the nation's lead.
Miles has won, there's no disputing that. He has averaged exactly 10 wins per season since he took over the program in 2005. Apparently, reaching double-digit wins nearly every single year is not good enough for LSU.
Let's say they fire Miles, then what? Who are they going to get?
Florida State's Jimbo Fisher, who was LSU's offensive coordinator for seven years beginning in 2000, makes sense because he can recruit and he knows the program, but would he leave his current gig at FSU?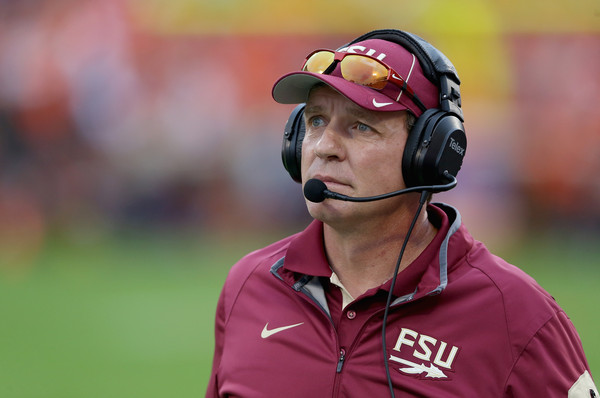 (Streeter Lecka/Getty Images)
Fisher already makes more money than Les Miles, has already built a winning program in Tallahassee, coaches in a state known as a hotbed for elite talent, and plays in a conference that offers an easier schedule and thus a better chance to go undefeated and crack the College Football Playoff.
Add in the fact that Fisher himself told the president of the university that he does not plan to take another job, as reported by the Palm Beach Post, and LSU cannot count on making him its next coach.
Sure, there are a plethora of other talented coaches out there who would love the LSU job, but the Tigers aren't going to want just anyone. They are likely going to want a big name who can immediately bring even more attention to Baton Rouge than Miles and his 10-win seasons could.
Justin Fuente is already off the market after taking the Virginia Tech job, and Tom Herman just received a very lucrative contract extension.
And it's not like the Tigers have had a terrible season to this point. Only one month ago, they were 7-0 and ranked No. 2 in the country and Leonard Fournette was a Heisman frontrunner.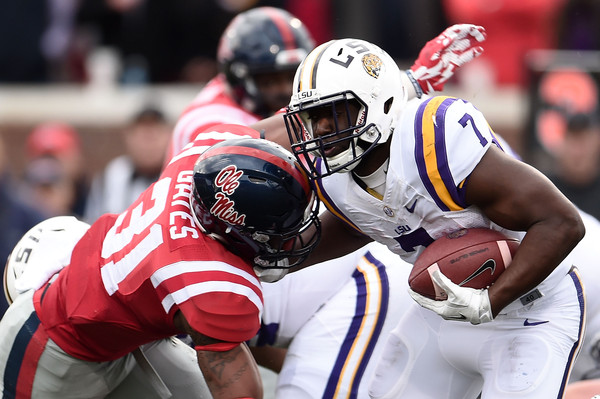 (Stacy Revere/Getty Images)
What has happened since then hasn't been pretty, as the Tigers have lost three in a row and Fournette has fallen out of the Heisman conversation. But how much of that is Miles' fault, and how much of that can be attributed to playing in the tough SEC?
It's fair to question Miles in a few regards, most notably on offense, where he has not been able to recruit a consistent quarterback. Zack Mettenberger is the only true signal-caller that they have had in recent memory, and he was a transfer from Georgia, not a high school player whom Miles recruited.
Without much confidence in a passing quarterback, LSU has been forced to employ a run-heavy attack that the best SEC defenses have shown an ability to contain. Maybe Miles needs to allow offensive coordinator Cam Cameron to open it up a little more, but again, without a quarterback, that's easier said than done.
Ultimately, if winning 10 games per season and continually boasting top-tier recruiting classes is not good enough for LSU, so be it, maybe Miles is not the coach they are looking for.
But before they give Miles the ax, they need to make sure they have a better candidate ready to hire. If not, then the program is going to get worse before it gets better, and considering the impatience of the boosters, they are not going to like that either.
This is not the right time to fire a head coach, especially considering Miles' tremendous consistency and success as well as the dozens of coaching positions that are open. It is going to be an incredibly busy offseason on the coaching carousel, which hurts LSU's chances of making a grand slam hire.
It's a bit of a shame that LSU is not satisfied with double-digit wins and a shot at winning college football's toughest division year in and year out, but an inability to recruit a quarterback and beat Alabama has plagued Miles.
But as it is, before they fire Miles, they better make dang sure that they can hire somebody that can improve on Miles' awesome 11-year run.