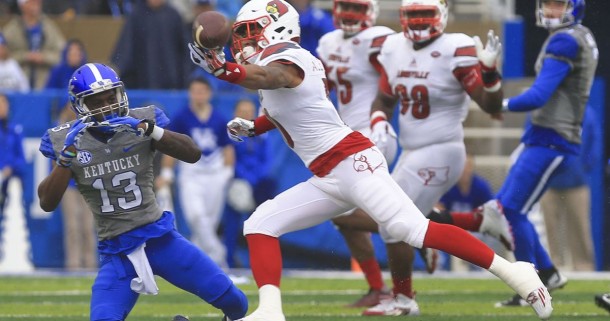 Kentucky stormed the Louisville Cardinals on both sides of the ball to start the game. They picked off Louisville starting quarterback Kyle Bolin twice in the first quarter, sending backup Lamar Jackson to face the Kentucky defense.
The Wildcats had struggled all season long with backup quarterbacks and quarterbacks that can run. Jackson was both in this situation, and the 'Cats handled him well at the start.
Kentucky was given an extra play after a penalty on Louisville occurred after the first quarter reached all zeros. Kentucky ran the ball to end the quarter easily, but some extra activity went on during the play.
Kentucky's star running back Stanley "Boom" Williams, who had been Kentucky's early star on offense, fell awkwardly on his previously injured arm. Williams was taken to the locker room and had his arm in a sling; he never returned to the football game.
Kentucky's running back Jojo Kemp had to come in for spurts after an injury to his ankle. Kemp and Mikel Horton managed the running game for the Wildcats in the absence of Williams.
Jackson threw another pick in the second quarter which led to a last second field goal by Kentucky to end the half. That field goal would mark the last time the Wildcats would put any kind of points on the board.
Kentucky's defense looked phenomenal early. They weren't allowing the Louisville offense to move the ball, picking off quarterbacks and scoring 17 points off of turnovers. Kentucky looked poised to end their losing streak in the Governor's Cup.
Kentucky came out of the gates and managed a stop on defense to get the ball back quickly. But that stagnant offense the Wildcats have shown all season crept its way into the game. The Wildcats would have less than 20 yards of offense going into a tie game to begin the fourth quarter.
The fourth quarter showed an even larger collapse than Kentucky already had in the third. The Wildcats allowed two touchdowns and made it virtually impossible to get back into a game they had control of early.
Kentucky never looked ready for Louisville in the second half. The Cardinals made adjustments, and the Wildcats made mistakes. 31 unanswered points in the second half won't win any ball game.
Kentucky's final offensive possession of the season ended with quarterback Patrick Towles back in the pocket after being replaced by redshirt freshmen quarterback Drew Barker. Towles threw a strike to the end zone, which was then intercepted in a fitting end to the season.
Every Kentucky football fan would have loved to see this group of Wildcats beat Louisville at Commonwealth Stadium. The team struggled to find an identity for themselves all year long, and finally found it at the end of the season.
Old habits die hard. For these 'Cats, old habits may never die.