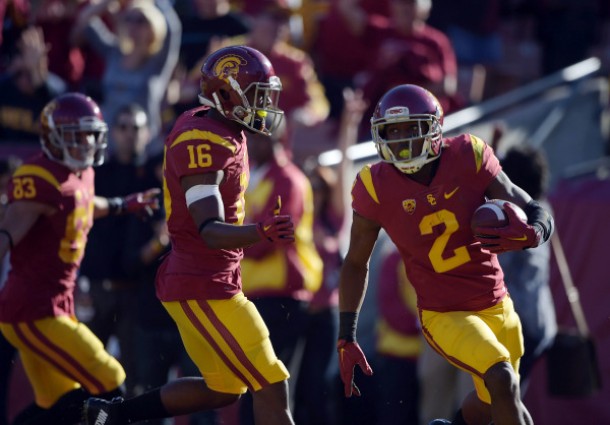 For the first time in three years the USC Trojans defeats UCLA, 40-21, and advances to the PAC-12 Championship game where they will meet Stanford. In his final game at the Coliseum, Cody Kessler threw for two touchdowns and no interceptions which capped off a stellar career in Southern California.
Cody Kessler, even though he may be a little undersized, has the right tools to make it in the pros with a little more coaching. The Bakersfield-native is one of the most accurate passers in college football, and completed 15/26 attempts and averaged 6.7 yards per throw without giving away any turnover.
Defense and special teams played a key role in today's victory. Rasheem Green picked up a loose ball and ran it in from 31 yards out to retake the lead towards the end of the third quarter. UCLA's next possession did not end very well either. Freshman quarterback Josh Rosen threw his first pick in over two-hundred pass attempts with Iman Marshall making a nice catch too.
When Adoree Jackson gets going he can be one of the most lethal return men in the nation – and that was on display today against the Bruins. With the first half winding down Jackson got the ball inside his own half, got a couple of nice blocks up field and found the back of the end zone after finding the open holes.
There was a nice mixture of run and pass by the Trojan's offense this afternoon and the running game got going early and often. Ronald Jones started the game but did not have a consistent enough afternoon to really keep the momentum going for his side; that changed though once Justin Davis' name was called. He was handed the ball 25 times, gaining 130 yards – ten less than the entire UCLA rushing attack.
The Bruins were not at their best today in every facet of the game. Josh Rosen did not look like his normal self inside the pocket and mistimed on 16 throws. While USC's offensive line pushed him around and threw off his timing, perhaps the stage was a little too big for the 18-year-old from Manhattan Beach.
He made some mistakes that made him look like the freshman he is and the only thing Rosen needs is time. During the offseason, the future of Bruins football will certainly look at tape from all his starts from this season and will lean what to do better for next season and if the work is put in, UCLA fans will certainly be happy and hopeful of what is to come.
USC lost to Stanford by ten points at home in their first conference game of the season, but that was a different team back there and they will be ready for anything the Cardinal throw their way in a week's time.