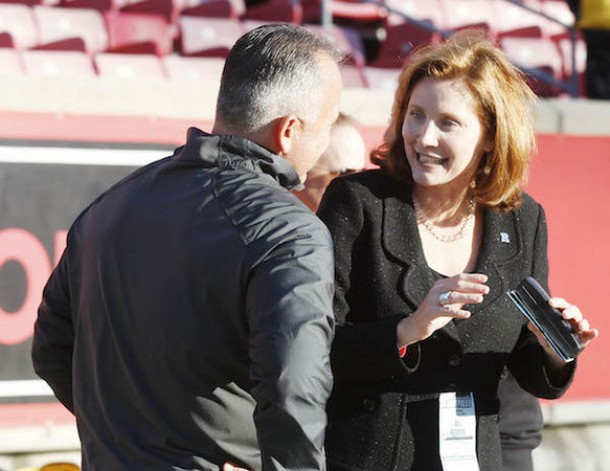 It was finally time to clean house for the Rutgers Scarlet Knights.
ESPN's Brett McMurphy reported Sunday that the program has fired football head coach Kyle Flood and athletic director Julie Hermann. Sources stated that "Signs pointing to cleaning house." [ESPN]
Flood was confident after blowing a 21-point lead Saturday to Maryland on Senior Day that he would maintain his job despite finishing a turbulent season at 4-8, saying "Nobody's given [him] any indication that [he] wouldn't be the football coach," and that he "fully expect(s) to be the head coach here for a long time."
Holding a 27-24 record in his tenure at Rutgers the last three seasons, Flood fed off the profits Greg Schiano left the program when he departed for the NFL's Tampa Bay Buccaneers. However, he struggled to control team conduct, and it showed in 2015, as Flood was suspended three games for contacting a teacher illegally about Nadir Barnwell's grades and multiple players were arrested and later dismissed from the university among other incidents.
Rutgers joined the Big Ten in 2014, a bit of a gutsy move from the Big East, and went 4-12 in conference games since joining. Flood did not give the university a good reputations, and as a result, the Knights join Minnesota, Illinois, and Michigan as the fourth team to rid of their football head coach and athletic director in the last 13 months.
Flood had been an assistant coach on the staff since 2005, and was set for contract expiration after the 2018 campaign.
Hermann took over in 2013 for Tim Pernetti after the basketball program's Mike Rice scandal led to the firing of Pernetti. She reportedly met with university president Robert Barchi Friday to discuss her future.
The Scarlet Knights missed out on a bowl in 2015 for the first time since 2010. The team now has running backs coach Norries Wilson pinned as the interim coach while Rutgers has the offseason to search for their new program leaders.