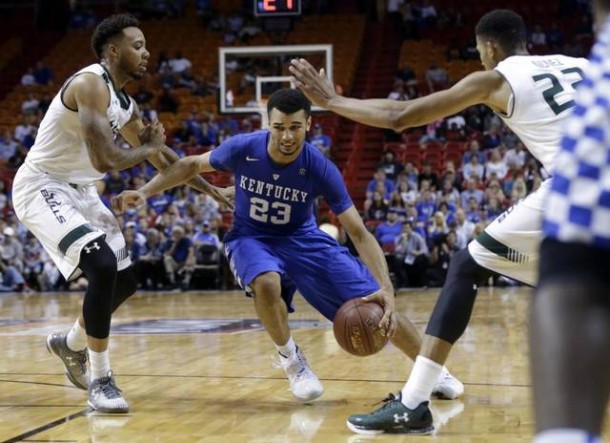 The Kentucky Wildcats will return home to historic Rupp Arena for a game against the 3-4 Illinois State Redbirds after a road trip to American Airlines Arena to face where they beat the South Florida Bulls.
In their previous game, Kentucky guard Tyler Ulis was bumped awkwardly in his right elbow during a scramble for the ball. Ulis' x-rays came back negative and he stated he was okay to go.
Kentucky head coach John Calipari said his star point guard 'might' play against the Redbirds. Knowing Calipari and how he has handled injuries in the past, Ulis will likely sit out this game.
With Kentucky's loaded back court, the Wildcats will be able to manage without their leader. Freshmen guards Jamal Murray and Isaiah Briscoe are both capable of running the point and have done it at times this season.
After Ulis left the last game the Wildcats went on a 15-0 run to close out the half. Having experience calling plays and defending the perimeter is helpful, but Kentucky can definitely win games without Ulis.
Illinois State is a far more experienced team in the back court than Kentucky. If Ulis does indeed sit, it will be three freshmen guards for Kentucky when Charles Matthews is on the floor and three upperclassmen for the Redbirds.
Kentucky's inexperienced line-up against the red-shirt juniors and seniors of Illinois State will make for an interesting game. The Wildcats may look a little confused early on without Ulis but if at any point they get going on offense, the Redbirds better find a way to stop them before it gets out of hand.
DeVaughn Akoon-Purcell is the biggest threat for the Wildcats. Murray and Briscoe are both under 6'4 and Akoon-Purcell comes in at 6'5. Kentucky will need a big game defensively from Matthews off the bench to contain the senior.
Matthews already had a career game against South Florida, scoring 11 points on 4-5 shooting in just 24 minutes. The freshman reserve won't be needed too much on offense, but he needs to do the little things on defense to help Kentucky control the game.
For Kentucky, that's the key to the game; control. As long as the Wildcats keep the tempo how they like it and don't allow the Redbirds to get into a rhythm; they win.
If Illinois State seizes the opportunity of Ulis' absence; it could get ugly.
Players to Watch
Alex Poythress- Poythress has been improving every game, and his experience will be needed in this game. The senior will have to lead this group of freshmen from start to finish against an older team. The 6'8 230 lbs will be getting a lot of touches on offense to get the game flowing.
Paris Lee- With the focus on the taller guard and Kentucky's pesky 5'9 defensive stopper in Ulis likely out, Lee will put on a show. Without Ulis, there is nobody the same height as Lee in UK's regular rotation. The junior will use his speed to leave Kentucky's inexperienced guards chasing him on defense.