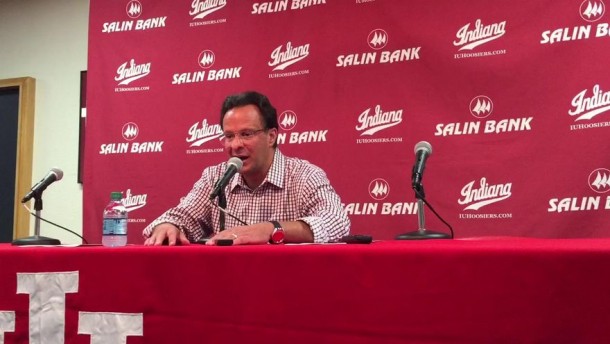 BLOOMINGTON, Ind. -- The Indiana Hoosiers were looking to rebound following a tough trip to Maui and they did just that with a dominating 42-point victory over the Alcorn State Braves on Monday night.
Check out what head coach Tom Crean along with players Troy Williams and James Blackmon Jr. had to say about the Hoosiers big win.
---
Tom Crean, Indiana head coach
Part of opening statement: "James' (Blackmon, Jr.) shooting was certainly impressive. But the 15 deflections were far more impressive to me because that's what you want to do. You want to get it to the point where your defense is creating your offense. And I think the 2-1 turnover ratio which is really strong, we went through the paint a lot. We had six guys in double figures and we changed defenses. I thought we took care of the ball. We certainly didn't slow down. So we showed that we can play at a really good pace, and also take care of the ball."
Preparing for the atmosphere at Duke: "I don't think we'll have any trouble with being ready to play a game like that. It's more making sure we understand the personnel, understand what they want to do, and understand how best we want to attack that and try to keep as accurate and we want to play fast, but we can't play reckless. You can't play reckless against anybody and give the ball away, and you certainly can't do it there."
Challenges of Duke: "Duke provides a lot of challenges because of the way they drive the ball. They have very good spacing, and they're shooting the ball at a high rate. Luke Kennard is coming off a really good game. Marshall Plumlee, think about it, he came out with Cody Zeller. Cody's in his third year in the NBA. Marshall is an energy force on their team. He's going to be hard to deal with because of the length and his strength. It will be a challenge, so we're looking forward to it though."
On the play of James Blackmon Jr.: "He just answered it. That's what he said. That's the whole key. It's so important that you focus on the other parts of it, the defense, the rebounding, the ball movement, moving without the ball. It's amazing. It's amazing how that ball moves when everybody's doing the same thing."
---
Players James Blackmon Jr. and Troy Williams
On getting going so quickly: Blackmon Jr.: "First, I felt like my teammates were finding me every time I was open. And second, I just felt like I got my hands on a lot of balls defensively, and I got a lot of deflections. Also my teammates did as well."
On last years' road games: Blackmon Jr.: "It's definitely something we looked at from last year, and it's what we want to improve on. So I feel like it could make a statement. Williams: "It's a different team. We've got Thomas Bryant, we have Yogi Ferrell, we have a lot of people in this organization, and that's what makes us, us. Come with a lot of energy and have a big game."
Opportunity of playing at Duke: Blackmon Jr.: "Indiana brings so many opportunities, and Wednesday is definitely a huge opportunity for us. So we're just going to practice hard like we have been and get it rolling and come out and do what we're supposed to do. Williams: "I just can't wait for it. That's what I came to Indiana for, these big- stage games, so I just can't wait for it."