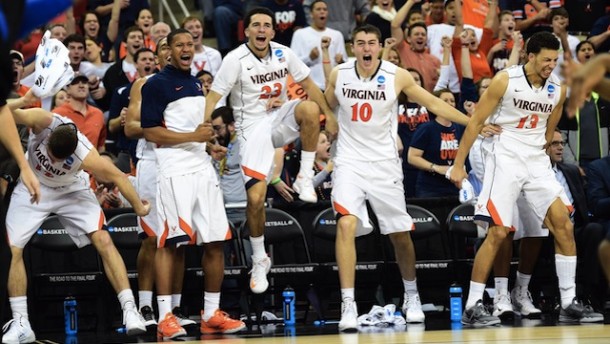 The Virginia Cavaliers came into tonight with a record of 5-1, putting them at the number 10 ranked team in the nation. The Ohio State Buckeyes, on the other hand, have been struggling this season with a record of 2-3, riding a three game losing streak. This would have been a huge win if the Buckeyes could have pulled off the upset, but the Cavaliers defense locked the Buckeyes down in the most crucial moments of the game, prevailing 64-58.
Going into the halftime break the Buckeyes found themselves right in this game, only trailing by two points, 26-24. They would continue to be in the game all night. Led by Marc Loving , who had 19 points and 5 rebounds, the Buckeyes ended up just short in this one. Loving was accompanied by his teammates Jae'Sean Tate, who scored 12 points and grabbed 8 rebounds, and Keita Bates-Diop, who scored 15 points.
Virginia was led by senior guard Malcolm Brogdon, who scored 22 points and also had 6 rebounds. Kicking in 12 points and 6 assists was Darius Thompson. Virginia's defense, which is known to cause havoc, did just that tonight, forcing the Buckeyes into 13 turnovers.
Ohio State is a very young and inexperienced team, and they had to face one of the best defensive teams in the country. That is what won this game for Virginia. Ohio State was able to hang around and keep this game close, even leading by three at one point, but the experience and great team defense from Virginia turned this game in the Cavaliers' favor.
This game extends the Buckeyes losing streak to four straight games and should cause a little bit of concern for the Buckeye faithful. While there should be some fears, all hope is not gone for this young team. Thad Matta's squad showed some spots of brightness, but just like many young teams, failed to come up big in crunch time.
For Virginia this is a quality win in what is already a good start to the season. They improve to 6-1 and are looking like they have their team structure figured out. When you watch this team play, you can tell everyone on the team knows their role and knows exactly how to execute it. While this team has yet to be tested by a quality team, they are still playing well. They look exactly like the typical Virginia team every year.
Up next for the Buckeyes is a home game against VMI this Friday at 3:30 p.m. CT. The Cavaliers get a home game against William & Mary this Friday at 1 p.m. CT.