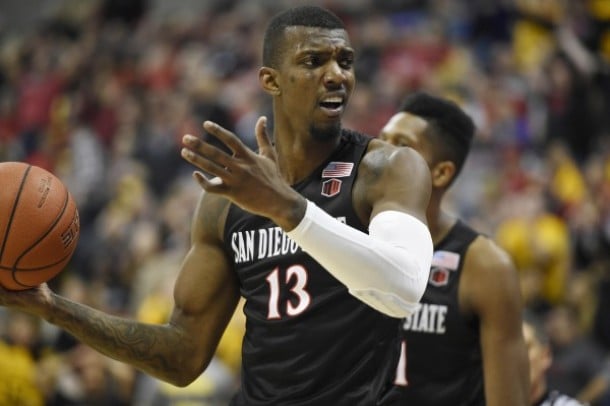 The San Diego State Aztecs do not score a lot of points, scoring less than 80 in each of their first eight games, but managed to hang on to beat Long Beach State 76-72 on the road at the Walter Pyramid on Tuesday night. This moves SDSU to 5-3 for the young season while Long Beach falls under .500 to 3-4 after the defeat.
This is the way that San Diego likes to play. It may not always be pretty, see the game versus Arkansas-Little Rock, but more times than not, the physicality of SDSU always proves to be the deciding factor in close games. Tonight it seemed to work in their favor as they led tonight's game in
San Diego native, Ben Perez does not get much playing time but the walk-on came off the bench to add ten key points on the way to the Aztec's win tonight. However, it was Trey Kell who might have put on the biggest show hitting all four of his shots from beyond the three point line to add 13 more, which lead Steve Fischer's squad.
Shooting from beyond the three point line really was one of the biggest differences in this game tonight. While Long Beach had a better overall percentage from deep, SDSU sunk one more, icing the cake.
Both sides had 16 turnovers tonight, Long Beach though could not capitalize on the opposition's mistakes and that hurt them in the end. If they want to take back the Big West title then they will either have to limit their mistakes on the offensive end of the court or capitalize on errors made by the other team.
Nick Faust led all scorers tonight, putting up 20 points but needed more help from the supporting cast. If you take a look at the score sheet, tonight's visitors had four scorers in double figures and two more on the fringe of breaking that threshold. On the other hand, the Beach only had one other double digit scorer and that was Gabe Levin finishing with 12 and nabbing another 10 rebounds – the only double-double of the night.
With this loss, Dan Monson's club have entered a four-game losing skid after starting out the season winning three in a row to open up the season and it will only get tougher from here. After a quick trip to Pueblo, Colorado to face Colorado State, they return home for a Saturday afternoon clash with Western Athletic Conference School New Mexico State.
For the visiting Aztecs, this win should be a huge confidence booster coming into a tough environment during the middle of the week and going back home to San Diego with the victory. Their next four games should be easily winnable before their last non-conference match up against one of the best team's this season in Bill Self's Kansas Jayhawks.