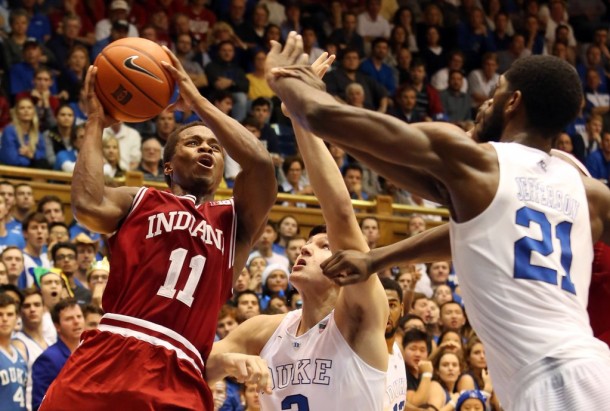 The Indiana Hoosiers went into Cameron Indoor Stadium looking to put up a battle with the Duke Blue Devils, but on this night, the Hoosiers had no resistance for the high powered Blue Devils offense.
The Indiana defense has been an issue all season long, but Wednesday night at Duke, they had no answer whatsoever on the defensive end of the floor.
It wasn't so much that the Hoosiers had an off night on offense because they still shot 51 percent, but the second chance points were the difference in this one. Duke collected 19 offensive rebounds to Indiana's nine and that turned into 26 second chance points to the Hoosiers nine. In total, the Hoosiers were outrebounded by 13 along with taking 17 less shots than the Blue Devils.
"I think a lot of Ingram's threes came off of second-chance points," said Indiana senior guard, Yogi Ferrell. "They outrebounded us. I think that hurt us."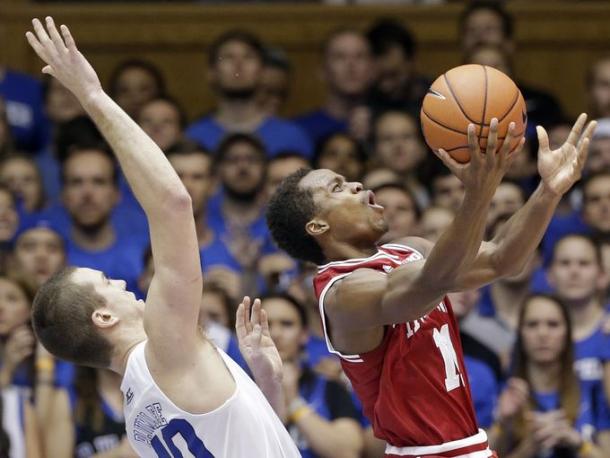 This looked like it was going to be a tight back and forth game as the Hoosiers went on a 12-0 run to take a six point lead in the first half, but Duke then extended their lead out to 13 before taking a nine point lead into the half.
It wasn't totally out of reach for the Hoosiers at halftime, but the way the second half began, those Indiana hopes were quickly put to rest. When it came down to it, it was just a tail of two halves for Indiana.
"We never really made them feel us, presence wise," Indiana coach Tom Crean said.
In the second half, Duke came out hitting on all cylinders and the Hoosiers couldn't do anything to stop them or even contain them. Indiana went over nine minutes without scoring a field goal from Collin Hartman's three at the end of first half until Robert Johnson's layup at the 11:30 mark.
Duke Excels On Offense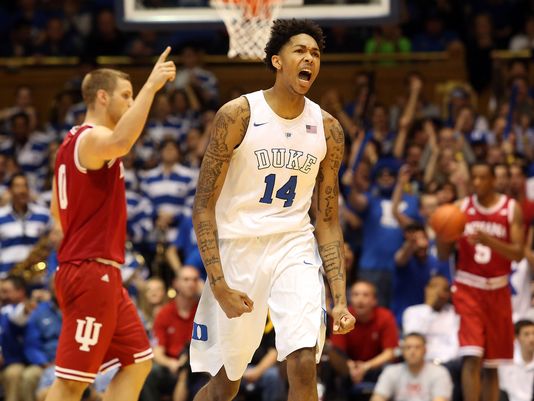 As for the Blue Devils, it seemed like they just couldn't miss and to go along with that, they could almost get to the rim at will. It looked like a hot knife cutting through butter.
"We didn't get enough stops," Crean said. "We didn't get enough stops in a row. We didn't create enough pressure on them to put them in enough uncomfortable situations."
Duke had four players in double digits including Brandon Ingram who poured in 24, Matt Jones who had 23, and Grayson Allen who chipped in 16. Ingram seemed like he couldn't miss as he had 18 points in the first half including shooting 10-for-15.
Indiana Moral Victories?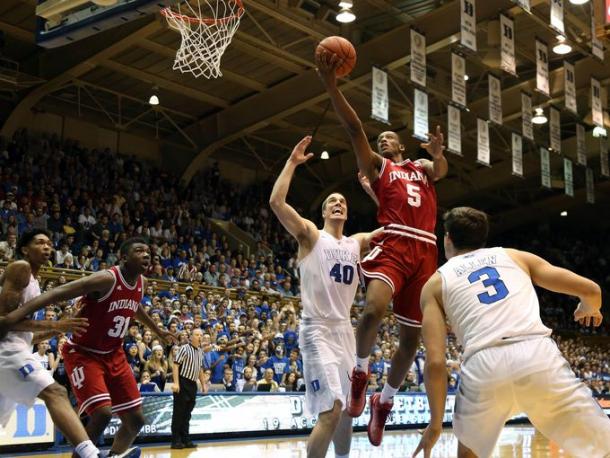 If there is one positive to take out of Cameron Indoor for Indiana it would have to be their turnovers. They have had issues taking care of the ball, but Wednesday they turned it over just nine times. That is a step in the right direction, but one area that took a bunch of steps back, was their defense.
On offense, Troy Williams, Yogi Ferrell, and James Blackmon Jr. were the only Hoosiers to score in double digits as Williams led the team with 17 on 6-for-7 shooting. Ferrell ended with 15 and Blackmon Jr. had 14 coming off of a career high 33 on Monday night.
Duke had no issues on the offensive end and could virtually do whatever they wanted with the ball. The Blue Devils had multiple easy lay-ins, had issues protecting the rim and didn't play physical enough down low, which has been another point of emphasis for this Hoosiers.
There aren't many positives to take out of this game, but coach Crean has to get this team to fight back.
"It's actually Dec. 2, so we're going to remember that it's Dec. 2 and get ready for Dec. 3," Crean said.
Indiana's struggles continued Wednesday night at Cameron Indoor and they will try to put this one behind them when they welcome in Morehead State to Assembly Hall on Saturday night.