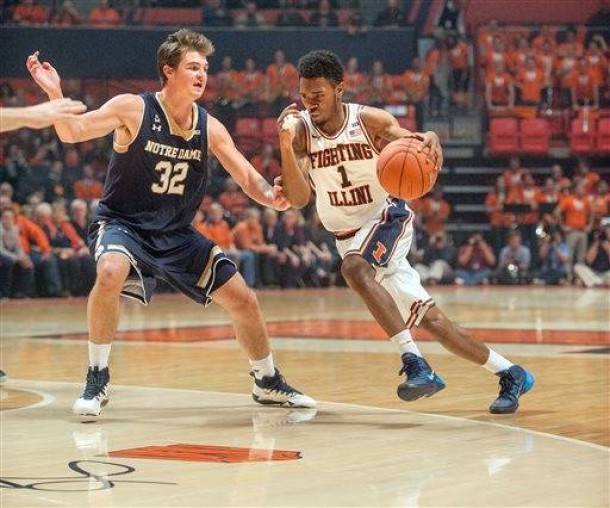 The Illinois Fighting Illini came into tonight's game looking to capture the victory against a struggling Notre Dame team, however the Illini couldn't seem to stick with the Irish late in the game and would eventually fall short of the victory losing 84-79.
John Groce and his Fighting Illini have anticipated this game from the start of the season, this matchup between Mike Brey and his Irish was huge for several reasons; one it was the first game at home this season and second it was a night where they honored legendary Illini head coach Lou Henson. Well unfortunately the Irish played spoiler.
Illinois started the game out firing on all cylinders, making key defensive stops and getting the ball inside resulting in easy points. Illinois' Malcolm Hill was the driving force for the Illini throughout the first 20 minutes of play, Hill had seven points through 12 minutes of play in the half; Khalid Lewis and Kendrick Nunn each added seven points in the first half. The first half ended with Illinois out in front by eight points leading the Irish by a score of 41-33, but the experience and skill led to a second half surge for the Irish and Illinois just couldn't keep up.
The second half was all Notre Dame. Illinois had absolutely no answer for Notre Dame's Steve Vasturia. Vasturia had 10 points in the second half along with two assists and finished the night with a total of 21 points. Vasturia went 3-5 from beyond the arc and 9-14 from the field. Along with Vasturia, Demetrius Jackson had a stellar night for the navy and gold as well, though he struggled in the first half where he finished with only six points he seemed to have broken through and got into his rhythm come the second 20 minutes of play as he had 17 points in the second half. His 17 second half points were a huge reason as to why the Irish were able to buck the Illini in this ACC/B1G challenge game.
As for Illinois, the second half was a struggle. Everyone on the Illini except Malcolm Hill failed to score more than nine points (freshman Jalen-Coleman Lands and redshirt freshman Michael Finke) in the second half of play. Hill went 4-7 from the field, 1-2 from beyond the arc and 3-3 from the charity stripe all totaling for 12 points in the second half. Hill's effort unfortunately wouldn't suffice as the orange and blue would drop to 3-5 on the year with this lost to Notre Dame.
Zach Auguste had 16 points, Demetrius Jackson and Steve Vasturia both had 21 for Notre Dame.
Malcolm Hill had 19 points, Kendrick Nunn had 13 and Jalen Coleman-Lands finished with 14.
Illinois will take on Western Carolina next this Saturday.