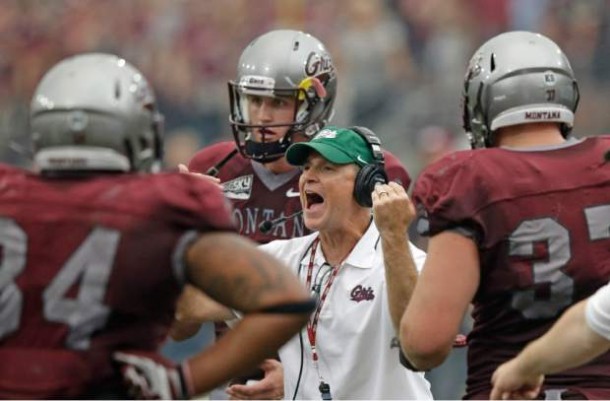 Last Sunday, Penn State head coach James Franklin made the decision to fire offensive coordinator John Donovan after a embarrassing 39-point loss Michigan State.
Almost one week later and there has been little buzz about who the Nittany Lions are talking to about the vacany. The Penn State offensive coordinator job could be one that can catapult a coach into the national spotlight.
Here are three candidates that Penn State should be looking at to fill their opening at offensive coordinator.
*denotes the coach no longer holds the position
The Top Three Candidates:
Bob Stitt (Head Coach - Montana)
Bob Stitt is currently coming off his first year at the University of Montana, after spending 15 seasons as the head coach at the Colorado School of Mines.
So far through his 16 seasons as a head coach, Stitt has compiled an impressive 116-66 record, including 8-4 this year at Montana. However, despite success, Stitt has yet to win a National Championship.
Stitt has never coached at the FCS level but has spent most of his career in the FBS with Northern Colorado, Doane, Austin, Harvard, Colorado Mines, and Montana.
Now, why would Penn State want to hire Stitt? One major reason is his lethal offense that he had installed at Colorado School of Mines and Montana.
Mostly an air raid style offense, Stitt loves confusing defensive coordinators. The biggest key of his offense is to trick the defense into man coverage. That way, the wide receivers could spread out as far as possible, almost cancelling out any zone coverage which will allow the wide receivers to get free, especially across the middle.
His offense has been critically acclaimed and hiring Bob Stitt would be a home run for Penn State. Only getting paid $175,000 at Montana, Penn State will be ready to throw everything they have at Stitt.
Mike Locksley (OC/Interim Head Coach* - Maryland)​
With the hiring of D.J Durkin at Maryland, Mike Locksley will most likely not be retained as Maryland's offensive coordinator. Which leaves him with plenty of open doors. One potential door that could open for Locksley is the Penn State offensive coordinator position, which would make a lot of sense.
First, Locksley has had plenty of experience coaching in the Big Ten with Illinois (2005-2008) and Maryland (2014-15). Having Big Ten coaching experience is a major bonus for Locksley here, as coming into the Big Ten presents its major challenges. With a conference that loves defense, schools are always looking for offensive coordinators that can exploit some of the toughest defenses in the country. With an offensive coordinator who has plenty of experience in the Big Ten, they have a better chance of being able to exploit tenancies.
Locksley is also a beloved recruiter in the Delaware-Maryland-Virginia area, which is one of Penn State's biggest recruiting areas. If Penn State is unable to land Bob Stitt, Locksley is probably the next best choice when put the value of recruiting into the equation.
Tyson Helton (Offensive Coordinator - Western Kentucky)
Over the last few seasons, Western Kentucky has had one of the most prolific offenses in all of college football. One of the major reasons for that is their offensive coordinator, Tyson Helton.
Helton is the brother of USC head coach Clay Helton and is a graduate of the University of Houston in 1999, where he played his college football. Helton also runs an air raid offense, which has had success throughout his career but especially at WKU.
At Western Kentucky, Helton's offense has allowed quarterback Brandon Doughty to flourish, throwing for 4,000+ yards each of the last two seasons, as well as 49 and 42 touchdowns respectively to just 16 combined interceptions.
A good recruiter, Helton could be a great hire for Penn State. However, the Nittany Lions would be expected to have to fight for Helton as his name has popped for other offensive coordinators jobs, including the University of Georgia who recently hired Alabama defensive coordinator Kirby Smart.
Four Other Candidates:
Gunter Brewer (Co-Offensive Coordinator - North Carolina)
North Carolina's offense has flourished with Gunter Brewer as co-offensive coordinator. Would be hard to lure him away from a program that has sky rocketed as of late
G.A Mangus (QB Coach - South Carolina)
A very realistic option for Penn State, would be South Carolina's QB coach of the last seven years, G.A. Mangus. The SEC connection with Franklin could prove pivotal.
Scott Montgomery (Offensive Coordinator - Duke)
Scott Montgomery has done a phenomenal job with talent he's been given at Duke. Could be an under-the-radar type move that could reward the Penn State offense for years to come.
Eric Morris (Offensive Coordinator - Texas Tech)
Eric Morris ran one of the more prolific offenses at Texas Tech among the power five conferences. He runs an air raid type offense, which has become very popular in the college game. Morris would need a huge pay raise for him to come to Penn State.