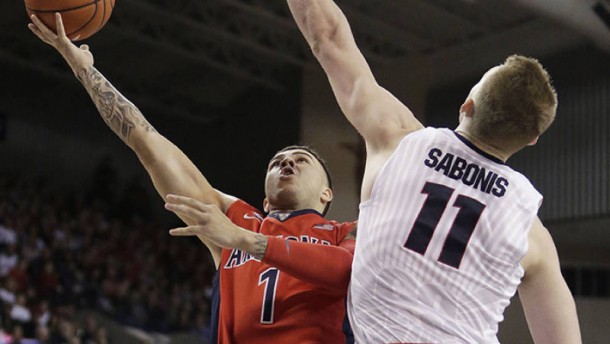 Coming in to today's matchup between two top 25-ranked teams in the country, the squads both only had one loss. The Arizona Wildcats came in ranked at number 19 and the Gonzaga Bulldogs at number 13. It is known that playing Gonzaga on their home court is never easy and getting a win is even harder. That is exactly what the Wildcats did today, but it wasn't easy.
Gonzaga Runs Roost In First Half
The Bulldogs got off to a great start in this game, even making it look like a blowout was in store in the first half. Led by senior forward Kyle Wiltjer, who ended the game with 33 points and 9 rebounds, the Bulldogs were able to go into halftime with a ten point lead. Also contributing to this lead was the Bulldogs sophomore center Domantas Sabonis, who scored 18 points and pulled down 16 rebounds.
Gabe York Leads Arizona Comeback
However, the Wildcats wouldn't go down easy. Gabe York, who scored 14 of his 18 points in the second half, came out of halftime firing from deep. He had his team fired up and gave them the burst of energy needed to take down this tough Bulldog team. York summed up what head coach Sean Miller said at halftime, "How hard are you willing to work? We've worked in the offseason, this is what we worked for. If you're not hyped for this game, than you're not human." A simple message from the Wildcats coach, but it seemed to give the team the energy they needed to complete a comeback and steal a win on the road.
Also doing his part to get the Wildcats the win was Allonzo Trier, who scored 14 points and had 6 rebounds. His part in the York/Trier duo was huge. Just when Gonzaga thought they had York controlled, Trier would step up and get a much needed bucket for Arizona and vice versa.
Ramifications
For Gonzaga, this loss puts them at 5-2 on the season and will most likely drop them down in the national rankings. They have been tested plenty this season, already playing two other ranked teams, number 25 Texas A&M, who they lost to, and number 18 UConn, who they beat. This was a good test for the Bulldogs at home and it looked like they were going to get a win, but an inability to score late in the game ultimately cost Mark Few's team the game.
Arizona, on the other hand, couldn't be happier. This was their first true road test on the season and they passed. Going down early in the game wasn't ideal, but they stuck with their game plan and ended up getting a quality win.
Big men Kaleb Tarczewski for Arizona and Przemek Karnowski for Gonzaga were both sitting in this matchup due to injuries, so both teams are eager to gain their forces down low back again.
Looking Ahead
Gonzaga will host Montana this Tuesday at 8 p.m. CT on ESPN3.
Arizona has a tough home game against Fresno State, who is 6-1 this season, this Wednesday at 8 p.m. CT.