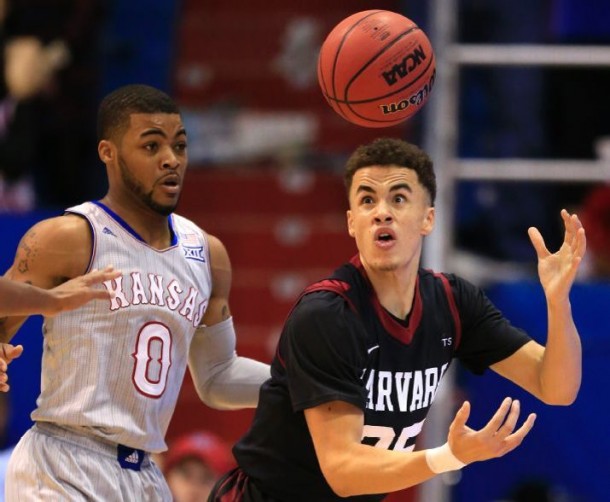 For a team missing one of the Ivy League's premier performers in Siyani Chambers, moral victories such as these will go a long way in bolstering the confidence of the 2-6 Harvard Crimson.
On the heels of an impressive second-half comeback, the Crimson placed a scare in the hearts of the fourth-ranked Kansas Jayhawks on Saturday afternoon in the Allen Fieldhouse in Lawrence, Kansas, falling just short of an upset with a 75-69 defeat at the hands of Bill Self's team.
Reserve forward Weisner Perez lead Harvard with 15 points on the afternoon, keeping the Crimson in contention with a bevy of finishing moves in the paint to accompany his nine rebounds. Perez was also clutch at the free throw line, hitting seven of his eight attempts from the stripe to pace his team's 12-for-15 effort from the line compared with Kansas' abysmal 13-for-25 mark.
Point guard Tommy McCarthy displayed his fighting spirit by contributing 11 points for Harvard, including a trio of three-pointers, in 37 minutes on the floor. Crimson center Zedo Edosomwan garnered 10 points and 11 rebounds while guard Corey Johnson hit two three-pointers en route to an eight-point showing.
Kansas point guard Frank Mason III piloted his team's victorious effort, recording 21 points and five assists on 7-of-11 shooting from the field in 38 minutes of action. Power forward Perry Ellis paced the squad with 12 key points while shooting guard Devonte Graham chipped in 12 points as well.
Jayhawks small forward Wayne Selden Jr. contributed nine points while shooting guard Sviatoslav Mykhailiuk garnered seven as well.
While Harvard kept the contest close in the first eight minutes, trailing 17-14 with 11:50 remaining, Kansas created a substantial advantage with a subsequent 15-2 run which began by threes from Mykhailiuk and Selden Jr., giving them a 32-16 lead with 6:51 left in the half.
The Crimson rode a 13-6 run into the break, however, keeping themselves within striking distance at 36-27 at halftime.
Layups by Mason III and Graham to begin the second half pushed the Jayhawks lead to 42-29, however, Harvard could not be put away. Trailing 47-36 with 16:37 to go, the Crimson began their push, riding a 16-8 run culminating in a McCarthy three-pointer which cut the Jayhawks lead to 54-52 with 10:24 remaining.
Mykhailiuk hit a layup, however Sanders countered with a basket of his own to trim the deficit to two points. Two Perez foul shots with 7:36 left tied the game up at 56, however, an Ellis and-one and a three-pointer by Graham pushed the Kansas lead to 64-58 with 5:45 remaining.
Leading 64-60 with 4:36 left, Mason III stuck the dagger in the hearts of the Crimson, stepping into a deep three from the top of the key and burying it to provide an insurmountable 67-60 for the Jayhawks, sealing their sixth victory of the season.