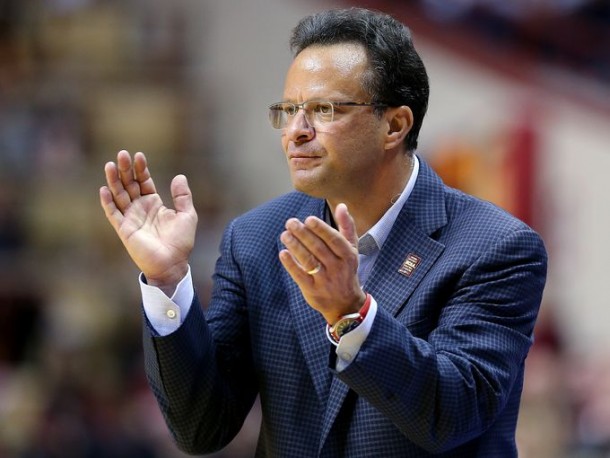 The Indiana Hoosiers got a big bounce back win over the Morehead State Eagles behind a lockdown defensive performance following a lackluster performance in their previous game on Wednesday at Duke.
Check out what head coach Tom Crean along with players Yogi Ferrell and Max Bielfeldt had to say postgame.
______________________________
Tom Crean, Indiana Head Coach
Opening statement: "Really proud of the effort, energy, attitude, the way they responded. And it's been obviously a long week; it's been a long couple of weeks and I thought they did an outstanding job of learning and applying it and bringing their practice game and practice preparation to the course, and they did it for a long period of time."
On playing aggressive: "Tonight, we played with more aggressiveness. We were a little more connected in our coverages, and especially with the switching. And their mindset was excellent. They were rotating well. We were drawing charges. We didn't spend the game in rotation. They rebounded some because they are a very good rebounding team and they send a lot of guys to the glass, but we did, as well."
On play of Max Bielfeldt: "I thought he was really good. I thought he played like a leader. I thought he was very aggressive, confident. Has had a couple great days of practice, as they all have, and played very confident."
Players Max Bielfeldt and Yogi Ferrell
Key to big game: Max: "I don't think there was anything specific. I just think we were executing better and really reading the defense pretty well. I was just playing what they gave me. I wasn't trying to do too much. Just trying to play my game honestly."
On being locked in defensively: Yogi: "We really emphasized on defense the last two days, and we played like we practiced. And we wanted to go out there and take away their tendencies. I feel like it's another step as a team to come together collectively and play together on defense."
Power of a defensive mindset: Max: "I would say it's a mixture of our mind-set and us playing as a team unit on defense. I think we emphasized these past couple days, all five playing one big defense collectively rather than each guy trying to take their own match-up. I think the help we had, we had guys off the ball getting steals, and it was fun to see guys playing together, all five as one unit."