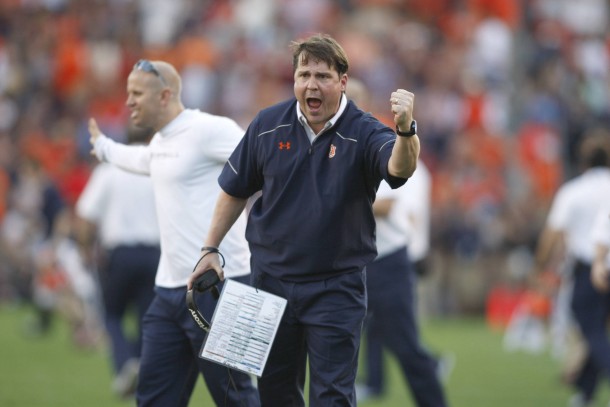 Will Muschamp has officially accepted the head coaching position at South Carolina. Muschamp leaves Auburn after just one season as defensive coordinator to try and turn the Gamecocks around after a 3-9 season. There are only two consistent things in Will Muschamp's career: change and defense. Over his 17-year career, Muschamp has coached for nine different teams and South Carolina will be his 10th. Muschamp is known as one of the most brilliant defensive minds in football, but will he last more than three years as the Gamecock's coach?
From 1995-1996 Will Muschamp was a graduate assistant at Auburn. He took his first full time position at West Georgia as the defensive backs coach. The next season he had the same job at Eastern Kentucky. The year after that, Muschamp became the defensive coordinator at Valdosta State University. After a one-year stint, Muschamp moved to LSU to be Nick Saban's linebackers coach. The next year, Muschamp was promoted to defensive coordinator.
In his second season as defensive coordinator, Muschamp's defense led LSU to a national championship. That year the Tiger defense led the nation in many major categories, including scoring defense and total yards allowed. The next season, LSU finished third in the nation in total defense and 10th in scoring defense.
In 2005, Muschamp followed Saban to the NFL and was the assistant head coach of the Miami Dolphins. After just one season in the NFL Muschamp jumped to Auburn as the defensive coordinator. In 2006, Auburn finished with an 11-2 record. The defense finished 25th in total defense and seventh in scoring defense. The next year Muschamp's defense improved to eighth in total defense and sixth in scoring defense.
In 2008, Muschamp jumped ship and went to be the defensive coordinator for the Texas Longhorns. His first season at Texas was his worst as a defensive coordinator, but the Longhorns still finished 12-1. The following year, Muschamp's defense was back in the top 10 and the Longhorns lost the national championship to Alabama. After a terrible 5-7 season in 2010, Muschamp accepted his first job as a head coach at Florida.
In his four seasons as Florida's head coach, Muschamp compiled a 28-21 record, including an 11-2 season in 2012 that ended with a 33-23 loss to Louisville in the Sugar Bowl. After a 6-5 finish in 2014, Muschamp was fired and moved on the Auburn where he served as the defensive coordinator over this past season.
Previous head coach Steve Spurrier brought the Gamecocks into national prominence, going 86-49 over a span of 10 and a half seasons. From 2011 to 2013, South Carolina won 33 games and lost just six, but over the past two seasons the Gamecocks are 10-10.
South Carolina has an all time record of 587–561–44, so the program is not known as being a perennial power. But Spurrier built a program and Muschamp should be able to continue that success. South Carolina has first class facilities and one of the best stadiums in the nation. They also boast one of the best non-conference rivalries in the sport with the Clemson Tigers. Muschamp will need a few years to turn this program around, but if he surrounds himself with the right coaching staff (namely a big time offensive coordinator) it won't be long before South Carolina is competing for SEC titles.