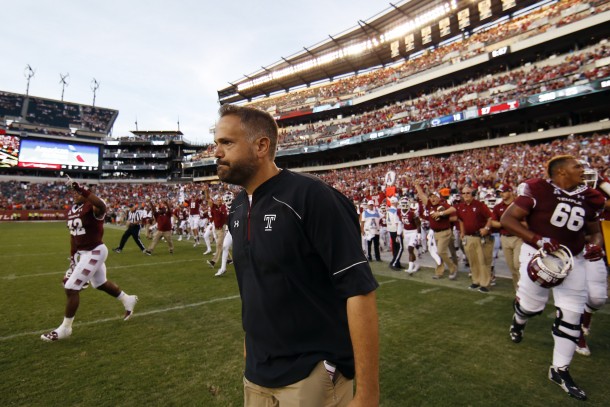 Temple University has announced they have signed head coach Matt Rhule to a new six year contract, announced by the university today. The new deal will keep Rhule with Temple until 2021.
Back in the summer, Rhule had signed a four year extension on his current contract which would go until 2021 also. This new deal is restructured and is reported to include a raise and facilities commitment, according to ESPN.
Rhule began his career with Temple in 2006 as the defensive line coach. Since then, he has worked his way up, despite stepping aside for a year in 2012 to work with the New York Giants as the assistant offensive line coach. Rhule has been the head coach of the Owls since the end of 2012, when he led them to a 2-10 year to begin his tenure in the 2013 season. Since then, he has been making strides and improving the team every year. The following year, Temple went 6-6 with key wins over Vanderbilt and East Carolina. While they were not awarded a bowl, Rhule still kept pushing the Owls to greatness going into 2015.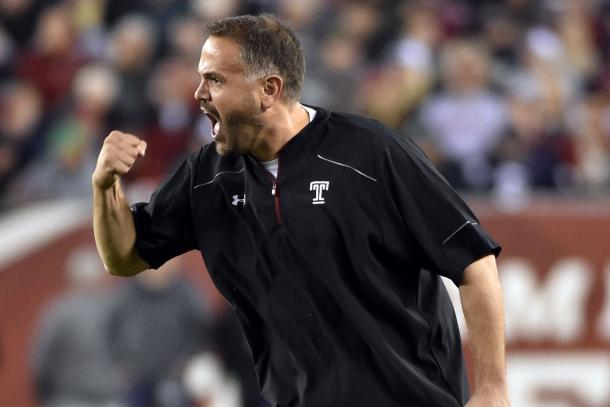 Derik Hamilton - USA TODAY Sports
With Rhule at the helm, Temple beat Penn State, Rhule's alma mater, for the first time since 1941, and started the year off going 7-0. This season, Temple went 10-3 and made it to the American Athletic Conference Championship Game, where they lost to Houston on Saturday. Temple is currently ranked #24 in all three major polls and will play Toledo in the Marmot Boca Raton Bowl on December 22nd. A win against Toledo would give them the most in school history in a single season, with 11.
Rhule is 18-19 during his three years at Temple and generated a lot of discussion this season as potentially going to another school to coach. While the entire buzz surrounded Rhule, he always said he was committed to Temple in numerous press conferences, despite meeting with officials at the University of Missouri for a potential job as the head coach. Being one of the youngest head coaches in college football, at the age of 40, and his turnaround of Temple's football team made him a very hot candidate for many schools.