Temple Owls linebacker Tyler Matakevich has been awarded the Nagurski Award, which is given to the nation's top defensive player. Matakevich is currently in his senior season with the Owls.
Matakevich, born in Connecticut, came to Temple back in 2012 and made an impact right out of the gate. Standing at 6'1" and 232 pounds, he is not your typical, big linebacker. However, what he lacks in size, he makes up for in strength and work ethic. Current head coach Matt Rhule has said that Matakevich has never missed a practice since his first day of his freshman year.
Matakevich earned significant playing time by October 2012 and was starting by the end of the month. He recorded 101 tackles in his freshman year, along with three pass deflections. In 2013, Matakevich broke out onto the scene. He recorded 106 solo tackles, a record for that year, and 137 total tackles. Not to mention, he also recorded an interception, two fumble recoveries, and three forced fumbles. In his junior year, Matakevich continued his domination to help make Temple one of the most improved defenses in the nation. He totaled 117 tackles on the year, which was accompanied by 1.5 sacks, an interception, and a forced fumble.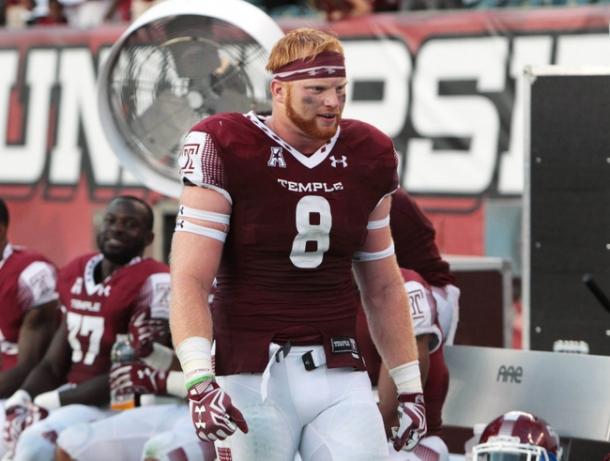 This year, in Matakevich's senior year, he helped Temple break out onto the scene. It all started week one against Penn State, when he had seven tackles, three sacks for his first multi-sack game in his career, and a pass deflection. He continued this to help lead Temple to a 7-0 start before they matched up with Notre Dame. Despite the loss, Matakevich helped keep the Fighting Irish's offense at bay as he tallied 13 tackles, one for a loss, and an interception. Matakevich's play, along with the defense as a whole, helped lead Temple to a 10-3 record so far, an appearance in the American Athletic Conference Championship Game, and a bowl bid to the Boca Raton Bowl.
He finished the year with 126 tackles, 15.5 for loss, 4.5 sacks and five interceptions, which earned him the honors of defensive player of the year.
Matakevich's career as a whole has been nothing short of spectacular, accumulating 481 career tackles, and one of only seven players in NCAA history to record 100 tackles in four separate season. He has helped bring Temple back to its former glory and earn them national attention. The award not only brings attention to Matakevich, but the university as a whole.