Kentucky went over 600 days without a regular season loss. Both fans and players need to put that all behind them and bounce back from their 38 percent shooting performance in Los Angeles.
Eastern Kentucky is second on the list of a stacked December schedule for the Wildcats. The Colonels have the right weapons to down Kentucky while the team is in a rough patch.
Kentucky has struggled with injuries to key players as of late, losing Tyler Ulis for a game and losing Marcus Lee for the majority of their loss to UCLA. These two are some of the only experienced players for the 'Cats and provide energy on the defensive side.
Ulis is almost certain to play as he played the entire game against UCLA with an elbow injury. The sophomore did look uncomfortable at times, moving the elbow and wincing during stoppage in play.
Information about Lee's injury and his current playing status have not been released. Lee was said to have been hit in the first half against UCLA and went to the locker room with a towel to his head. Speculating what the injury may be is impossible and Lee could be out an additional game due to the incident.
Lee's absence in another game could yet again spell disaster for the Wildcats. Kentucky had no idea how important this offensive rebounding machine was to the team until he was no longer available to help get the young bunch of freshmen playing with energy. Kentucky will need people to step up and fill the spot of Lee if he is to be out.
A player who should fill his own spot before he fills another for the 'Cats is their star-studded big man Skal Labissiere. Labissiere started the season strong with a couple of 20-point games. The freshmen has scored in single digits the last two games and has been out-rebounded by his 5'9" teammate.
Labissiere needs to perform well if Kentucky expects to win games. The Wildcats are already limited enough on the interior and Labissiere doesn't need to shrink their options by looking invisible.
Luckily enough for the 'Cats, the Colonels don't go too big with their lineup. Their biggest player chimes in at 6'10" and is a freshmen. Kentucky still has two players taller than 6'10" without Lee and will have obvious size advantage Labissiere can take advantage of.
Jarelle Reischel is the Colonels' biggest threat against the Wildcats. Coming in at 6'7", the senior will be guarded by Kentucky's lone senior Alex Poythress. Poythress showed he still has a long way to go before he becomes that elite defender he once was and will have a hard time getting back into a stride against Reischel.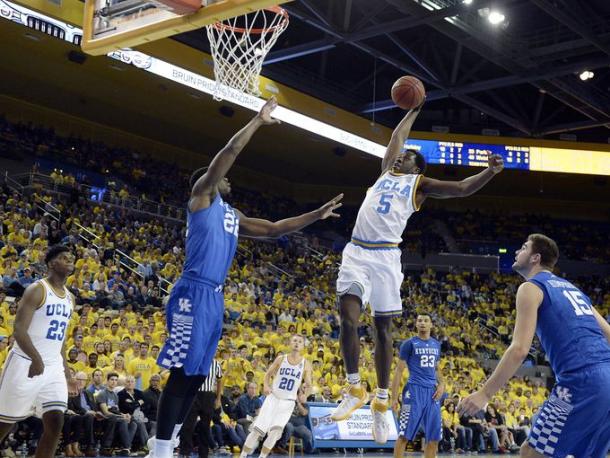 Photo by Richard Mackson - USA TODAY Sports
Despite their big men being freshmen, Eastern Kentucky has plenty of experience. Nine upperclassmen on roster may give Kentucky fits with their energy man out of the game.
This game is leaning in Eastern Kentucky's favor early. The Colonels face a ranked team on the road who have important pieces of their team fighting injuries.
Another December upset for the Wildcats would not be at all shocking with their situation.
Players to Watch
Nick Mayo- Mayo may only be a freshmen but the guy is definitely talented. The Colonels struck gold when they got him on scholarship and without Lee in the game to guard Mayo, the freshmen may have himself a ball game in Rupp Arena.
Isaiah Briscoe- Briscoe has had a successful season and wears his heart on his sleeve at all times. It was fairly obvious the freshmen point guard was the only one who truly wanted to come back and win that game against UCLA. Briscoe will continue his quick start to the season and provide a jump start for the Kentucky offense at times.